2022 Rules
April 30-May 1, 2022
Shooting Academy in Ridgedale, MO | Big 20 Format
Read Carefully These Rules will be STRICTLY ENFORCED!
Last Modified January 31, 2022
Lakes & Red Zones
Boat Rules
Each team must have proper boat registration papers and registration numbers.
Each boat must have the following safety equipment: running lights, fire extinguisher, one throwable life preserver, horn or whistle, and four life jackets.
Each team member must wear a Coast Guard approved life jacket anytime the boat is on plane.
All boats will be subjected to a random inspection by tournament officials 24 hours prior to and until the end of the tournament.
Random boats will be checked by tournament officials Saturday up until 6PM and only then will a boat be allowed to leave the tournament site.
Each team will be allowed the use of only ONE boat during the tournament.
Each participating team is required to carry $100,000 in liability insurance on boat being used. Proof of insurance is required for review by tournament officials.
All boats must be in compliance with all state and federal regulations pertaining to watercraft.
Tournament Rules
Alcoholic beverages are PROHIBITED during tournament hours, and during the Saturday event and Sunday weigh in.
The winner of the tournament will be decided upon the total weight of their largest 20 fish. It is the TEAM's responsibility to have their biggest 20 fish separate and ready for weigh in.
Trophies, cash, or merchandise will be given away to the team shooting the heaviest fish. It is the TEAM's responsibility to enter their fish into the Big Fish category.
The Captain of the Team is responsible for all taxes.
It will be the responsibility of the TEAM to determine the largest fish from the count to be weighed and measured by tournament officials to be used for tiebreakers.
All teams that register during the first 24 hours of U.S. Open Bowfishing pre-registration will be put into a random draw for starting order and receive a $50 Bass Pro Shops e-gift card. Any teams registering after the first 24 hours automatically will take off in the order their entry was received. Teams will leave the tournament site according to their assigned boat number.
All BOATS must make OFFICIAL FISH WEIGH-IN. Failure to do so will result in disqualification and forfeiture of entry fee.

No grace period will be allowed. Official time is kept by the officials at the tournament site. You must be on site on or before official ending time at 8am.

The decisions of the tournament officials will be FINAL!!
Failure to comply with Tournament Rules will result in disqualification, and the entry fee will be FORFEITED!
Anyone chosen to take lie detector test must pass it to be eligible for money or prizes.
All participants must check out prior to leaving the tournament.
Tournament hosts and sponsors will not be responsible for accidents or lost property.
NO AUTOMATIC REFUNDS OF ENTRY FEES: Notice of intent to cancel registration must be received 72 hours in advance of tournament date. Fees or any portion of fees refunded will be the decision of tournament officials, and will be based on the reason of cancellation.
Fish disposal will be handled by tournament officials.
TIES: In case of a tie, the winner will be the team with the most fish weighed. If the tie continues, then the team with the biggest fish will win. If the tie still exists, then the winner will be determined by a coin toss.
All teams pre-registered will be automatically entered into a drawing for a TRACKER 2072. Retail Value at $38,515 with Freight and Prep. Drawing for the boat will take place immediately following weigh-in. Must be present to win.
Boat Giveaway
All teams pre-registered will be automatically entered into a drawing for a TRACKER 2072. Includes a Mercury 115EXLPT 4 Stroke Motor and a Custom Trailstar Trailer. Retail Value $38,515 including average freight and prep. Drawing for the boat will take place immediately following weigh-in. Must be present to win.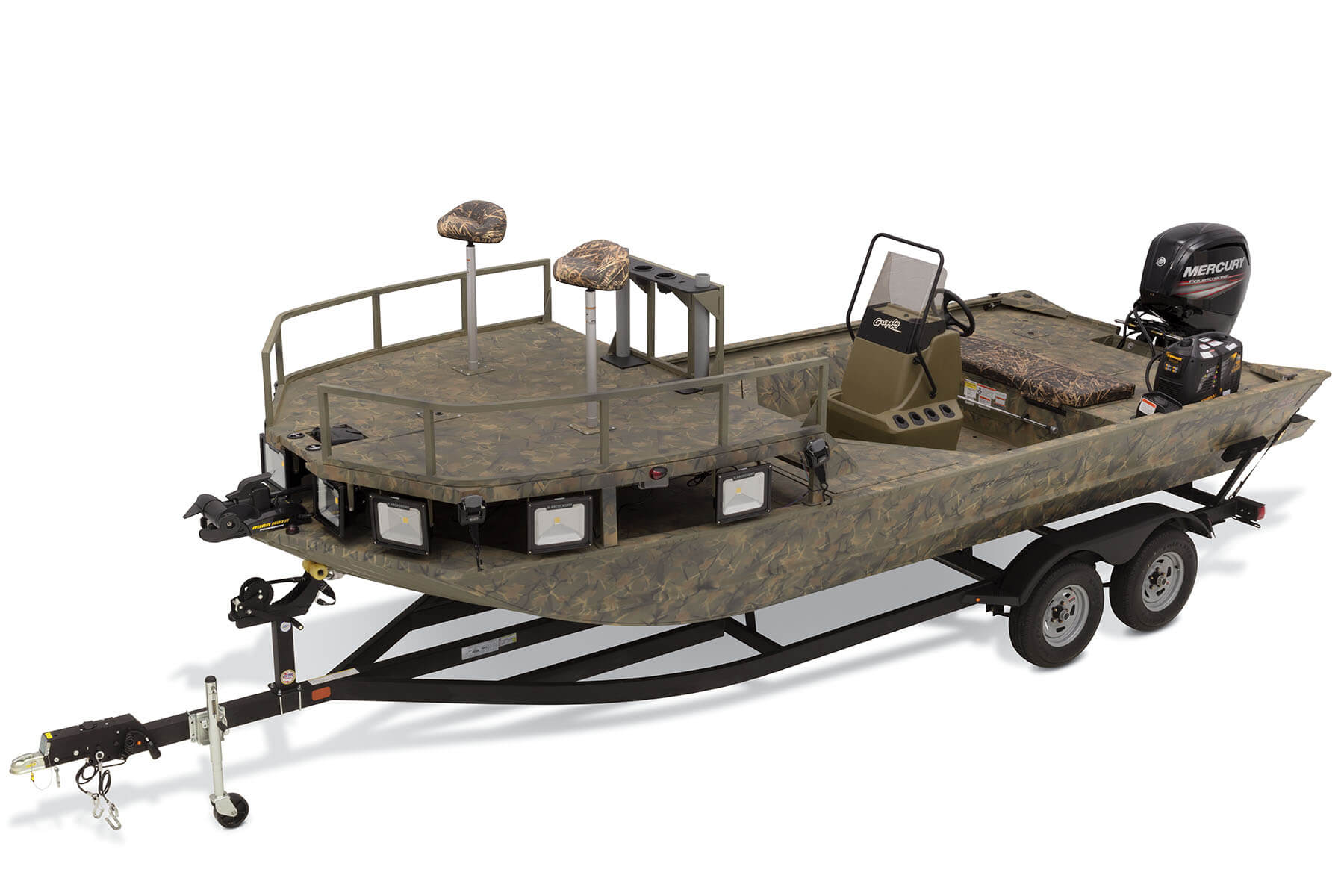 Fishing Regulations
Two, three, or four persons per team, one team per boat. Each person in the boat must be a paid contestant of the tournament and abide by all tournament rules and regulations. It is the contestant's sole responsibility to review the official rules prior to the start of the tournament. Entry into the event either online or in person represents acceptance of all tournament rules and regulations. (No passengers, with the exception of videographers/ media cleared by tournament officials).
Scouting may be done anytime. Any boat that is on the water with bows, arrows, dip nets, gigs, or gaffs in the boat 24 hrs. prior to the start of the tournament will be DISQUALIFIED!!!
Each team member must have proper state fishing licenses.
No wading (for safety reasons). Bows must remain in boat.
Any violation of Missouri or Arkansas State Law, DOT, or Fish & Game Department Regulations will automatically disqualify the participants from the tournament. It is the angler's responsibility to know all Missouri, Arkansas and local fishing regulations and off limit Red zone areas.
No Game Fish may be shot during tournament competition. Competitors may NOT weigh in Alligator Gar, Catfish or Spoonbill.

Any legal non-game fish may be weighed in. Most common species include: Long Nose Gar, Short Nose Gar, Buffalo, Bighead Carp, Common Carp, Grass Carp, Silver Carp, & Suckers.

Fish must be shot on approved tournament bodies of water (see list) during tournament hours.
No baiting or chumming of fish.
Fish entries must be taken with bow (compound, recurve, longbow, or crossbow) and a single-point arrow only. All fish must be taken outside of the boat by bow including Silver Carp.
No arrows with explosives or other shocking devices allowed.
All arrows must have a line attached to it for retrieval.
No dip nets or gigs will be allowed in the boats. Gaff hooks with a single hook and total length of no more than 7 feet will be allowed for landing shot fish.
Trailering from official tournament site is allowed to any public boat ramp on approved tournament bodies of water.
For safety reasons, a team may drop off equipment and/or fish barrels provided that ALL team members leave the tournament site and ALL team members and their fish return for the weigh-in.
Suspected transferring of fish between teams will result in the disqualification of all teams involved. No fish may be transferred from one team's boat to another team FOR ANY REASON!
No unsportsmanlike conduct will be tolerated. Teams must keep a respectable distance between boats; no crowding and no "owning" a fishing spot.
All participants will respect the rights and privacy of all non-participants on or around the water. Please be courteous and polite and avoid congested and populated areas.
Restricted RED ZONE areas are enforced for this tournament. NO BOATS, SCOUTING, OR FISHING ALLOWED for 7 DAYS PRIOR to and DURING tournament inside red zones. Violators will be disqualified—NO QUESTIONS! Know where these areas are-it is your responsibility! Tournament officials reserve the right to add Red Zones up to the day of competition if problems arise. When launching in a RED ZONE only use navigational lights (no fishing lights).
Teams must adhere to all state "no boating" areas
No fishing within 100 yards of public boat ramps, swim beaches, campgrounds, or marinas.
Table Rock lake is Troller, Kicker or Mud motor Boats only. No airboats, no fishing with fans.
State Record Jackpot
Must be one of these species to win $10,000: a certified Missouri or Arkansas State Record Grass Carp, Common Carp, Buffalo or Long Nose Gar during tournament hours. BAA state records not recognized. Must be recognized by Missouri Department of Conservation or Arkansas Fish & Game.
TRACKER Boats Rewards Contingency
Eligible Participants. Any bowfishing team in the Bass Pro Shops U.S. Open Bowfishing Championship, who own and bowfish out of a Tracker during the tournament are eligible to win. Finish in the top 5 in a TRACKER Bowfishing Boat and get paid. First place: $10,000; Second through fifth: $1,000. The captain must show proof of ownership.
*Tournament officials reserve the right to revise the rules as needed.