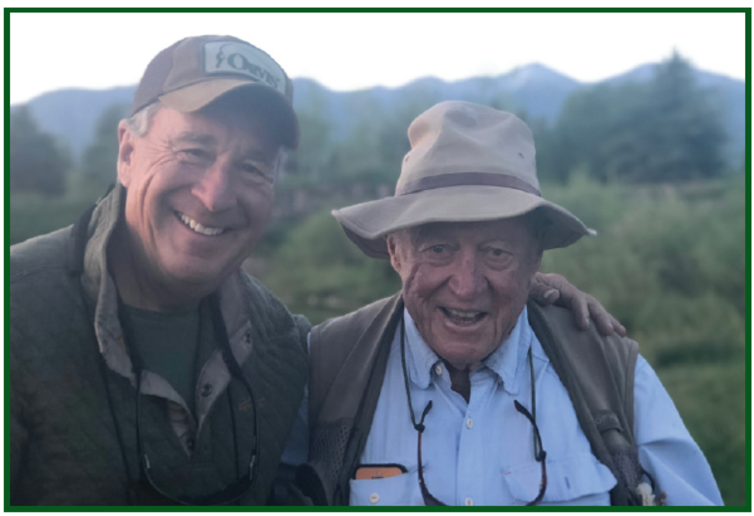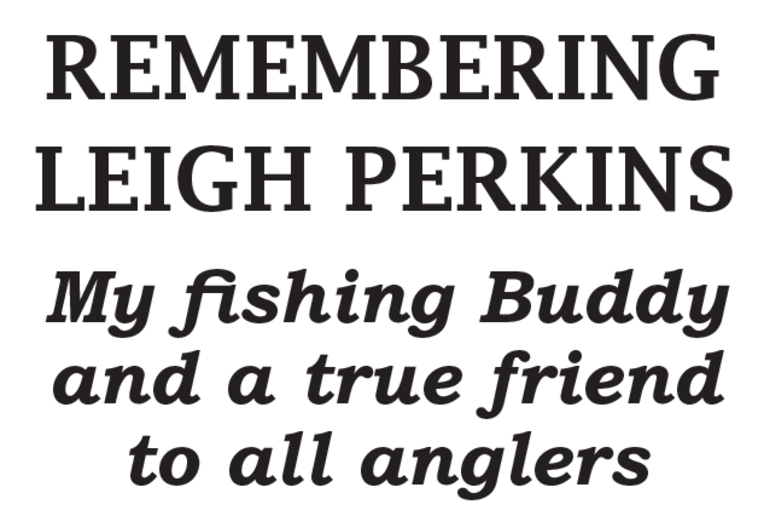 I'm honored to say that Leigh Perkins was my friend. It's no exaggeration to say that Leigh Perkins was a friend to anglers everywhere, he was one of our heroes. I thought the world of him for many reasons, but I especially admired his unwavering commitment to customers and conservation as he built Orvis into one of the world's most respected outdoor companies.
As sad as I am about Leigh's passing, I can't help but smile when I think of my fishing buddy. His deep down hearty laugh always livened the spirits of everyone around him. He was a genuinely humble, happy guy...a real bigger than life character!
In a way it was most fitting that Leigh passed on Mother's Day weekend. He always credited his mother with introducing him to the joys of hunting and fishing. In fact, he dedicated a chapter in his book to her, titled In My Mother's Footsteps. Leigh proudly stated "The great influence in my sporting life was my mother. She taught me to fish and hunt and she was my principal sporting companion for the first 18 years of my life."
One thing that always impressed me about Leigh is that he did a great job when it came to balancing work with fishing and hunting, he saw them as one and the same. The outdoors was his passion and he always found the time to enjoy nature. He loved his family, his dogs and the opportunity to provide customers with the very finest quality fly fishing and outdoor gear while connecting them to extraordinary outdoor adventure destinations.
Leigh said it best "I never lost my feeling for the outdoors or my love for hunting and fishing. In my whole life, I have missed only two weekends of hunting during bird season, once because I had polio and once to get married. I was fortunate to have found something I loved so much when I was young, and even more fortunate to have been able to stay with it after I was grown. And most fortunate of all, maybe, in being able to turn that passion into my livelihood." Man, do I ever feel very blessed in my life to be able to relate first hand to what Leigh said about the life he lived.
Leigh was a lifelong conservationist. Through his generosity and clear-headed advocacy, he was an inspiration to all of us who care about the outdoors. He used the powerful and respected platform of Orvis to create great awareness by highlighting priority conservation opportunities and inviting his customers to join in to find positive solutions.
For many years Leigh and the Perkins family have worked tirelessly alongside their customers and leading conservation groups to expand support for conservation, preserve wild places and protect our sporting traditions for generations to come.
Leigh grew up working in the iron mines of Northern Minnesota and, as his family and friends know well, he wasn't shy about sharing his opinions. His sons, Perk and Dave, benefited from their father's hard lessons and they have honored him by blazing new trails while remaining faithful to his ideals and principles. With the third generation leading the way, today the Orvis brand is an inspirational example that America truly is the "land of opportunity" where we are blessed to be able to follow our passions and pursue our dreams.
At 93 years of age, Leigh knew he had lived a full and happy life. He was supported by his loving wife, Annie, and a wonderful big family. In the end, I believe nothing made him happier than knowing a third generation is taking Orvis into the future and carrying on their grandfather's legacy.
I thank God for the blessing of being able to call Leigh Perkins my true friend.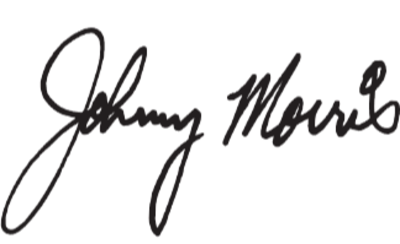 Johnny Morris
Founder, Bass Pro Shops
P.S. One of my favorite Leigh Perkins quotes is from his book "A Sportsman's Life" it underscores his humor and humbleness. When asked about the success of Orvis he simply stated, "I was in the right place, at the right time. Which proves, once again, what a number of friends have said about me –that I am a hell of a lot luckier than I am smart. If you can only be one or the other, I will take lucky."
CLICK HERE TO WATCH A TOUCHING TRIBUTE TO LEIGH PERKINS FROM HIS GRANDSON, SIMON, FATHER'S DAY 2018: