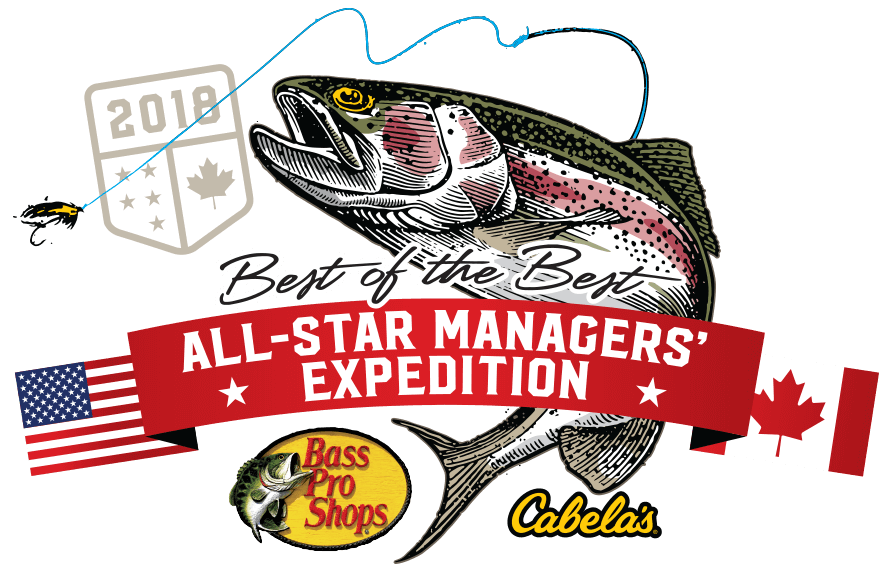 - August 16–19, 2018 -
In the Heart of the Ozarks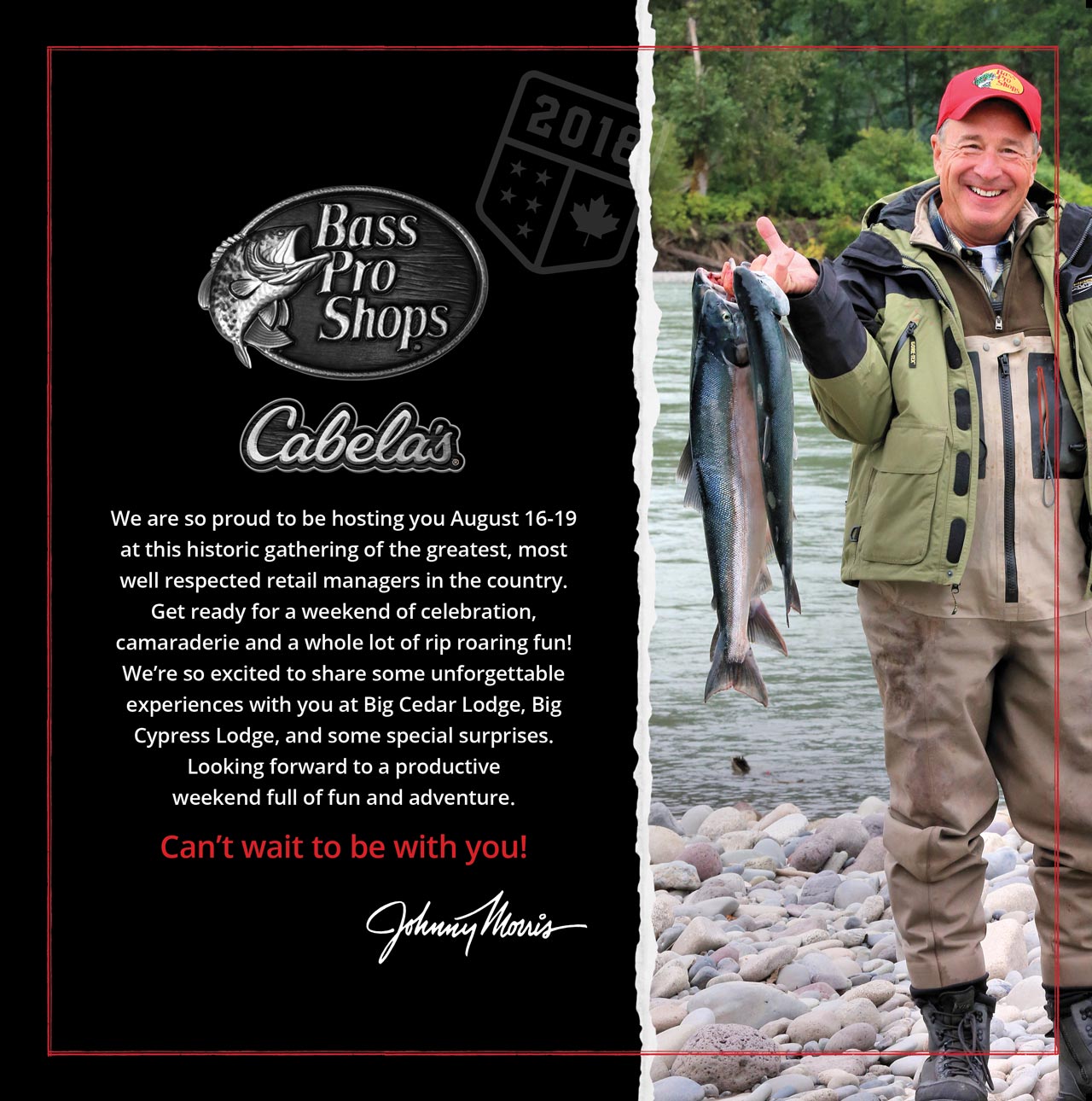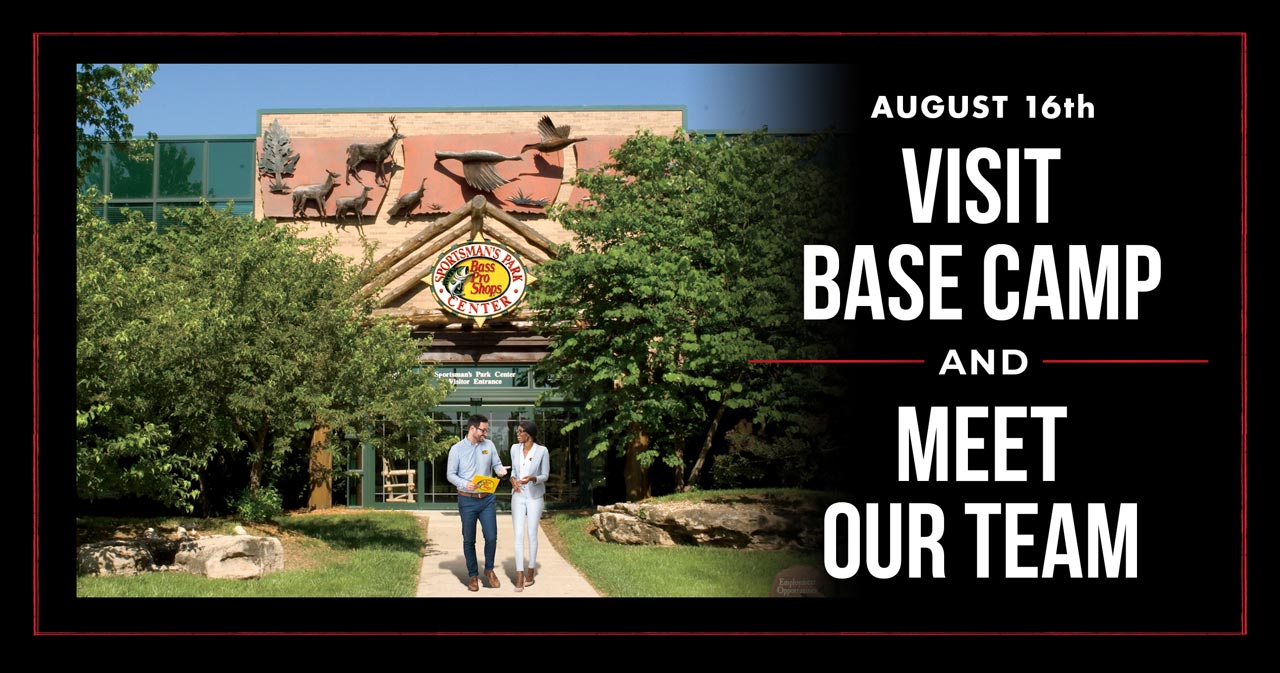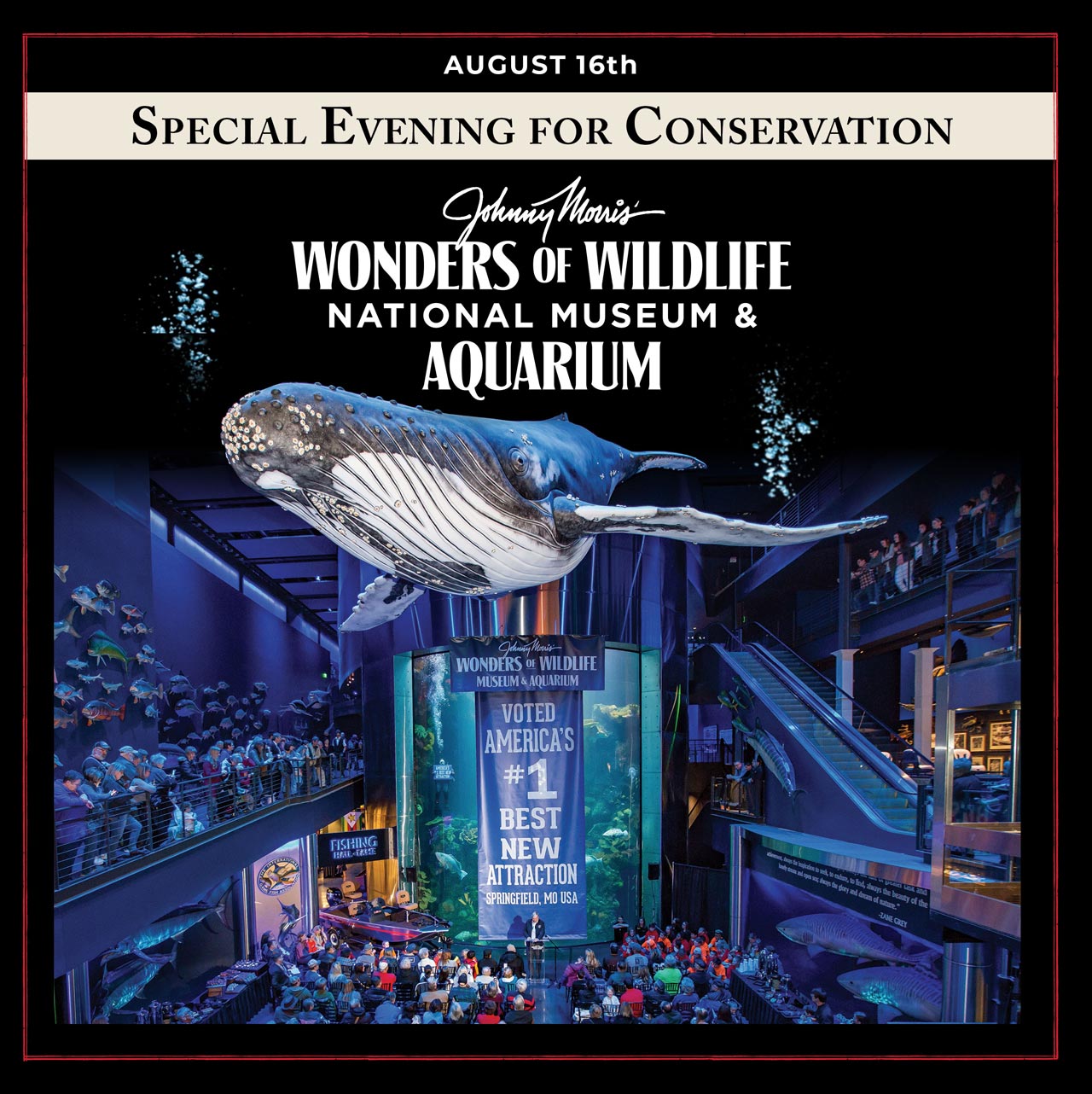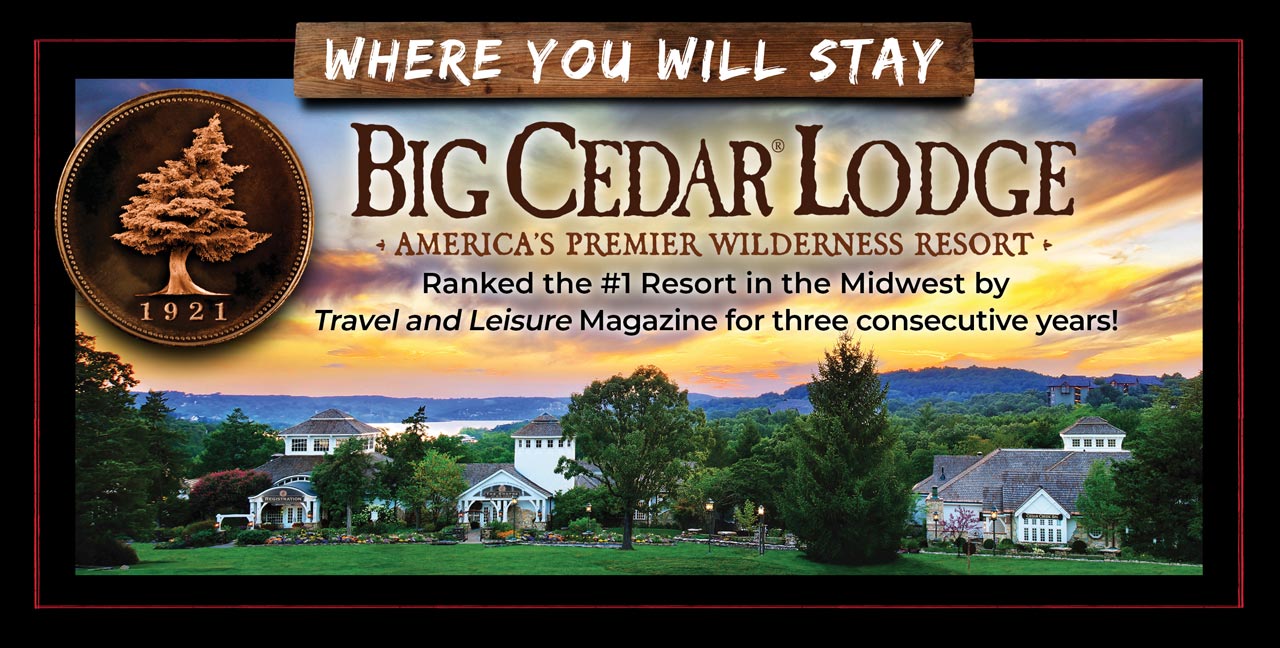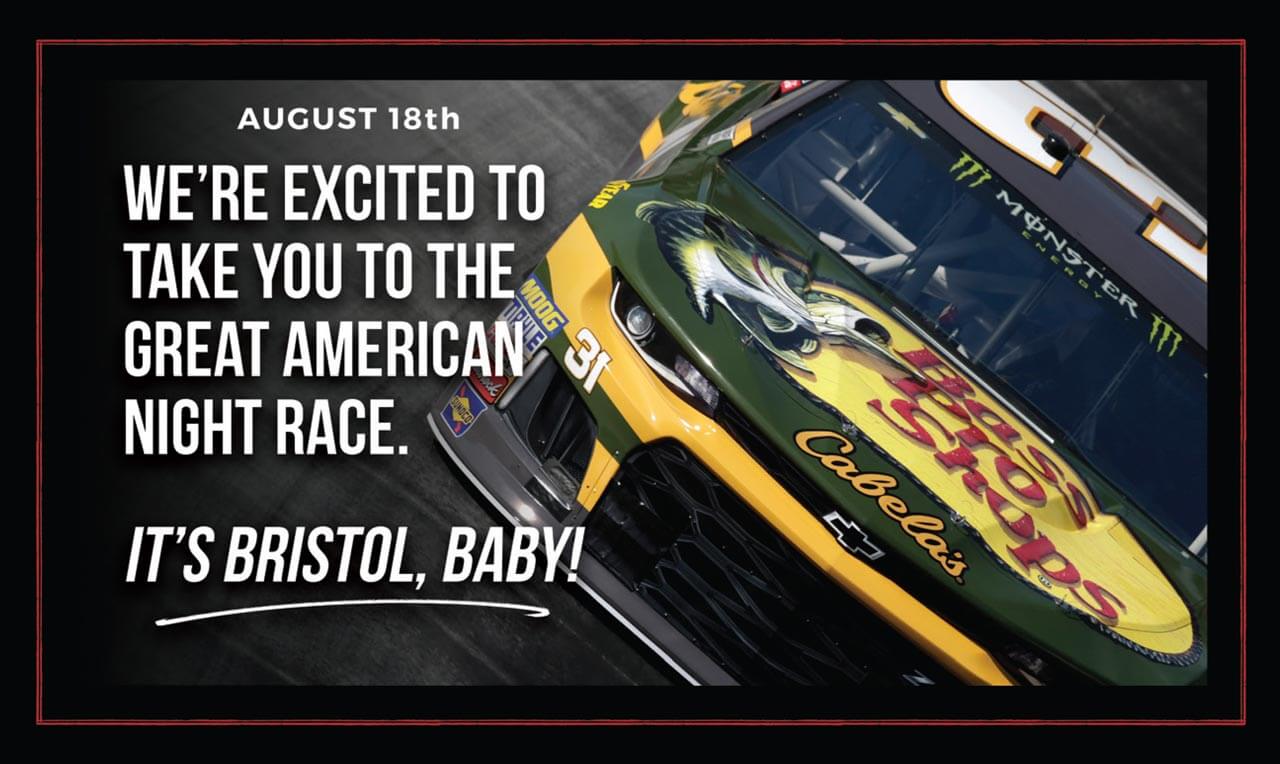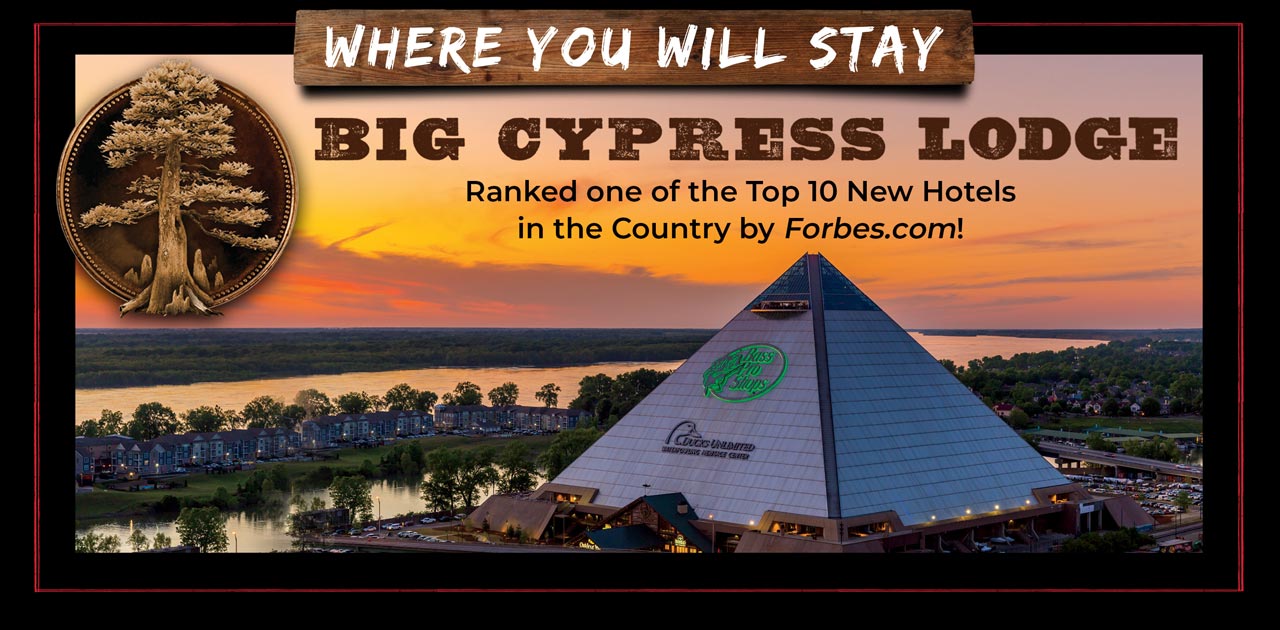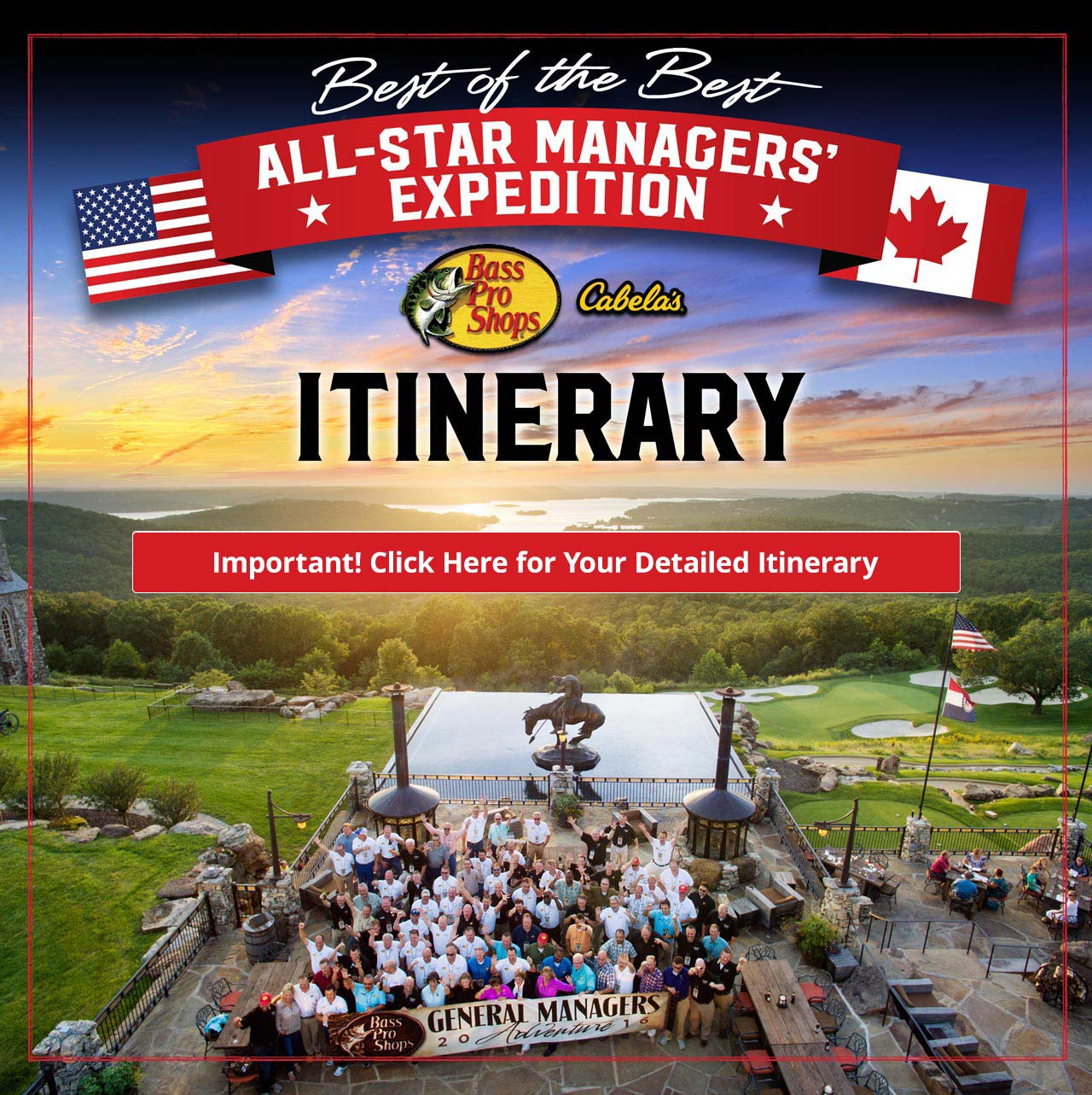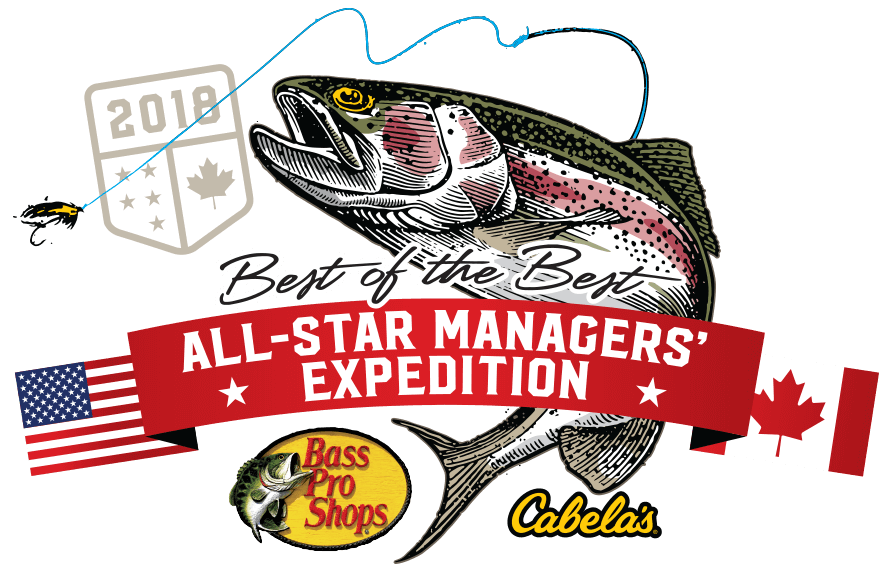 Welcome to the Ozarks!
---
We are thrilled to have you join us for the All-Star Store Managers' Expedition! We look forward to your arrival and consider it an honor to be hosting you in a beautiful part of the country, the Missouri Ozark Mountains.
Your transportation, lodging, meals and activities have been arranged exclusively for you, the Best of the Best Store Managers!
Johnny has planned an exciting weekend—one that promises to be great fun and hopefully very meaningful and productive, with a surprise or two along the way. While getting to know each other better, we will also enjoy great activities and food, and a pit stop at the "Great American Night Race" in Bristol, Tennessee, where we'll cheer on our 2017 Monster Energy NASCAR Cup Series Champion, Martin Truex Jr., in the Bass Pro Shops/Ducks Unlimited Toyota, and Ryan Newman, driving the # 31 Bass Pro Shops/Cabela's Chevy.
Here are some helpful hints for your travel to THE OZARKS…
IMPORTANT NOTE: We will be sending you 4 luggage tags before your arrival. Please be sure to use the provided luggage tags. This will ensure that your luggage is delivered to the correct location.
Canada & Alaska friends, don't worry! We'll have your luggage tags waiting for you at the Springfield airport upon your arrival.
---
Thursday, August 16
Dress: Business Casual
Please arrive for your flight two hours prior to your scheduled departure.
If you encounter a travel delay, please call Angie Getso at 417-849-5779 or Adelman Travel at 1-800-231-3999.
Upon your arrival in Springfield, you will be met at baggage claim. Your hosts will be wearing a Bass Pro/Cabela's hat. A shuttle will be waiting to take you directly to the Grandaddy Store for Registration. There you will check in and we can answer any questions you may have. Your luggage will be delivered to your room at Big Cedar Lodge.
Springfield Airport: 2300 N Airport Blvd, Springfield, MO 65802
*If you are driving your personal vehicle, please park your car in one of the designated parking spots at the front of the Bass Pro Shops store.
**If you are driving a rental car, please drop your car off at the Springfield airport and board one of the shuttles to the Bass Pro Shops store. An associate with a Bass Pro/Cabela's Hat can direct you to the shuttle.
9:00am–1:00pm
Pick up your credentials at the registration table located inside Bass Pro Shops. 1935 S. Campbell, Springfield, MO 65807
12:30pm
Meet just outside the front entrance of Bass Pro Shops. Please be prompt!
Note: 12:50pm & 12:55pm arrivals will be taken directly from the airport to Base Camp (Bass Pro Shops Headquarters' Campus).
1:00pm
Get on shuttles in number order.Very Important: The number on the bottom right of your name tag is your seat assignment. Please locate your designated seat. You have been strategically placed in this order for your next journey; please remain in this order throughout the tour.
1:30pm
Tour Base Camp—all-star meet and greet reception.
4:30pm
Board busses to relocate to Wonders of Wildlife National Museum and Aquarium for tours and Evening for Conservation Celebration.
6:30pm
Dine in Great Oceans Hall at Wonders of Wildlife National Museum and Aquarium.
7:30pm
Entertainment and featured guests speakers.
9:00pm
Shuttles depart for Big Cedar Lodge—America's Premier Wilderness Resort.
---
Friday, August 17
Dress: Business Casual
6:45am
A shuttle will pick you up at your room to take you to Falls Lodge. If you are staying in Falls Lodge, meet in the lobby.
7:00am
Travel to Dogwood Canyon Nature Park.
7:30am–8:15am
Breakfast at the Mill at Dogwood Canyon Nature Park.
8:15am–11:25am
Trout Fishing & Wildlife Tram Tour through the Canyon.
— It's a contest! Who can catch the biggest trout?
11:30am
Shuttles depart for the Bass Pro Shops Shooting Academy.
12:00pm–12:55pm
Shooting exhibition.
1:00pm–1:45pm
Lunch at Bass Pro Shops Shooting Academy.
2:00pm–5:00pm
Activities:


If you chose golf as your activity, board a shuttle to be transported to Top of the Rock Golf Course.
If shooting is your activity, head to the range.

5:30pm–6:30pm
Free time to shower and relax in rooms.
6:30pm
Shuttles from guest rooms to Top of the Rock.
6:45pm–7:30pm
Tour the Lost Canyon Cave & Nature Trail like never before!
7:45pm
Group photo on Buffalo Bar patio—Mark has a secret!
8:01pm
Sunset ceremony.
8:15pm
Dinner on Buffalo Bar patio.
9:30pm
After dinner, entertainment on the Driving Range.
10:15pm
All board shuttles to Big Cedar Lodge.
---
Saturday, August 18
Dress: Business Casual with Black Polo Race Shirt
6:00am
Dress is casual with comfortable shoes, excluding sandals or open toed shoes. You may wear jeans or shorts. Be sure to wear your special black race shirt.

Please have your bags packed and leave inside your room by the door. Your luggage will be directly transported to your next destination. Bring what you need for the race, including your charger pack and earplugs. You will NOT be returning to your room at Big Cedar. (Backpacks are permitted at the race.)
*PLEASE NOTE: Be sure to have your 2 race wristbands, name tag, track map and program with you. DO NOT leave these items with your luggage. You must have it on to enter the track.
**You will be going through airport security in Branson.
No liquids over 3.4 ounces, firearms, pocket knives, etc.
You will need your government issued I.D.
6:30am
Shuttles from guest rooms to the Grandview Conference Center.
First thing! Put on your race credentials! 2 wristbands & 1 lanyard with your suite pass in the lanyard. Please Note: Some of you will receive special race assignments.
6:30am–7:30am
Breakfast at the Grandview Conference Center.
7:30am–11:15am
Business meeting in Ballroom C&D.
11:30am
Depart for Branson Airport.
*Have your government issued I.D. ready.
12:45pm
Wheels up! Lunch and a special treat will be served on the plane.
3:45pm
Plane lands and Highway Patrol motorcade departs for Bristol Motor Speedway. Please Note: Time change.
What bus do I get on? Match your wristband color to the bus captain's paddle.
4:30pm
Arrive at Bristol Motor Speedway for welcome reception.
5:30pm
Driver & crew chief meeting.
5:45pm
Walk to Victory Lane.
Golf carts available for guests who need assistance.
6:00pm
Participate in pre-race ceremonies from Victory Lane.
7:15pm
Group moves to turn 3.
7:41pm
GM team members serve as Grand Marshalls—Deliver "Drivers, Start Your Engines" command!
7:42pm
Team returns to Victory Lane to watch first 20 laps.
8:00pm
Move to the VIP Suites to watch the race.
Suites: 256/257, 256, 254
What suite are you in? Flip your name tag over, the suite number should be on there. Dinner will be served in the suites.
100 Laps To Go
Move to Ole Smoky Moonshine Deck.
Conclusion of the Race
Return to Bristol FBO & board planes for Memphis, TN.
1:30am
Check in to Big Cypress & the Peabody (time change).
What time is my departure in the morning?
Look in your key packet. There will be a notecard with your departure time listed on it.
---
Sunday, August 19
6:30am
Airport departures start.


Need to arrive 1.5 hours prior to your flight time.
See departure list in your key packet.

8:00am–11:00am
Breakfast in The Lookout.
11:00am
Check out.
Late Departures
Lunch at Uncle Bucks.
Graceland tickets available upon request.
We can't wait to have you here with us again!

Debbie Bennett
Vice President of Hospitality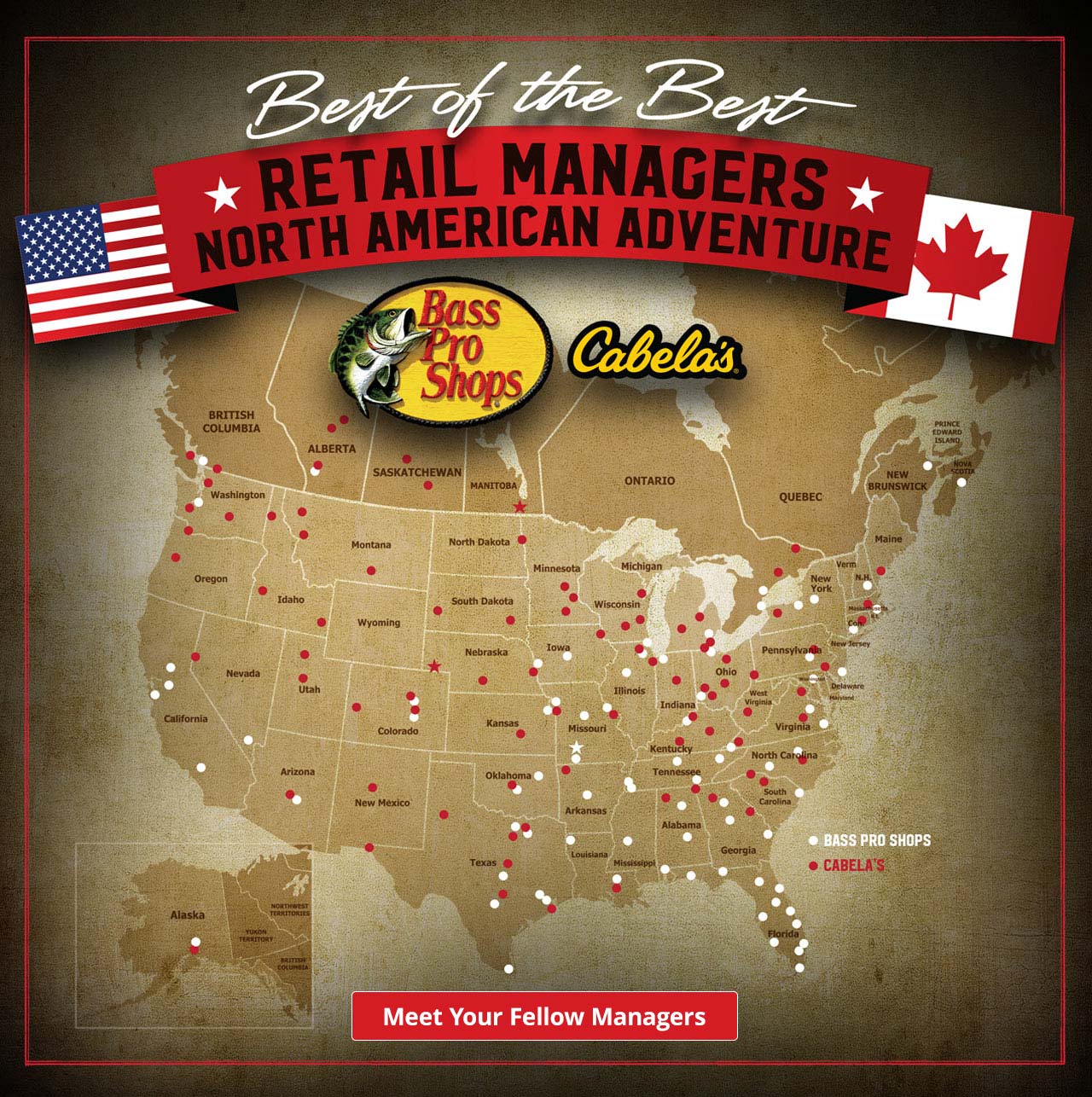 Best of the Best Retail Managers
| | | | |
| --- | --- | --- | --- |
| Al Pew | BPS | Calgary, AB | 14 Yrs |
| Stephen Gagne | CAB | Calgary, AB | 3 Yrs |
| Tanya Masse | CAB | Edmonton North, AB | 7 Yrs |
| Steve Bailey | CAB | Edmonton South, AB | 6 Yrs |
| Pat Nolde | BPS | Anchorage, AK | 6 Yrs |
| Kevin Weeks | CAB | Anchorage, AK | 7 Yrs |
| Steven Smith | CAB | Huntsville, AL | 3 Yrs |
| Dave Harre | BPS | Leeds, AL | 11 Yrs |
| Eric Alford | BPS | Prattville, AL | 13 Yrs |
| Derrick Watkins | BPS | Spanish Fort, AL | 10 Yrs |
| Will Anderson | BPS | Little Rock, AR | 8 Yrs |
| Reed Tucker | CAB | Rogers, AR | 4 Yrs |
| Scott Johns | CAB | Glendale, AZ | 8 Yrs |
| Tom Carlew | BPS | Mesa, AZ | 29 Yrs |
| Michelle Polsom | CAB | Nanaimo, BC | 4 Yrs |
| Gerry MacIntyre | BPS | Vancouver, BC | 2 Yrs |
| Jackson Felt | BPS | Manteca, CA | 11 Yrs |
| Bob Minor | BPS | Rancho Cucamonga, CA | 11 Yrs |
| Dan Dugger | BPS | Rocklin, CA | 11 Yrs |
| Gina Meacham | BPS | San Jose, CA | 2 Yrs |
| Chris Koeninger | BPS | Colorado Springs, CO | 14 Yrs |
| Vaughn Peterson | BPS | Denver, CO | 5 Yrs |
| Debbie Testa | CAB | Grand Junction, CO | 5 Yrs |
| Chris Fletcher | CAB | Lone Tree, CO | 11 Yrs |
| Brett Lococo | CAB | Thornton, CO | 16 Yrs |
| Loretta Mercado | BPS | Bridgeport, CT | 4 Yrs |
| Karla Szarlan | CAB | East Hartford, CT | 5 Yrs |
| Cornell Randolph | CAB | Christiana, DE | 3 Yrs |
| Danny Vinson | BPS | Dania Beach, FL | 8 Yrs |
| Todd Blanchard | BPS | Daytona, FL | 12 Yrs |
| Ryan Cox | BPS | Destin, FL | 9 Yrs |
| Chuck Stevens | BPS | Ft. Myers, FL | 13 Yrs |
| Mike O'Brien | BPS | Gainesville, FL | 6 Yrs |
| Scott Bodziak | BPS | Islamorada, FL | 8 Yrs |
| Jaime Gonzalez | BPS | Miami, FL | 1 Yr |
| Lenny Balogh | BPS | Palm Bay, FL | 1 Yr |
| Craig Scarborough | BPS | Port St. Lucie, FL | 10 Yrs |
| Jeff Dooley | BPS | Tallahassee, FL | 4 Yrs |
| Ronnie Cheeks | BPS | Tampa, FL | 6 Yrs |
| Earl Johnson | CAB | Acworth, GA | 5 Yrs |
| Jacky Jackson | BPS | Atlanta, GA | 11 Yrs |
| Tabitha Poteat | CAB | Augusta, GA | 1 Yr |
| William Van Kampen | CAB | Fort Oglethorpe, GA | 3 Yrs |
| Tom Moody | BPS | Macon, GA | 8 Yrs |
| Dale White | BPS | Savannah, GA | 5 Yrs |
| Jason Truman | BPS | Altoona, IA | 13 Yrs |
| Duane Ebach | BPS | Council Bluffs, IA | 12 Yrs |
| Taryn Wright | CAB | Ammon, ID | 13 Yrs |
| Chris Dominguez | CAB | Boise, ID | 12 Yrs |
| Randy Longnecker | CAB | Post Falls, ID | 16 Yrs |
| Marty Nealon | BPS | Bolingbrook, IL | 4 Yrs |
| James Goff | BPS | East Peoria, IL | 14 Yrs |
| Scott Grant | BPS | Gurnee, IL | 14 Yrs |
| James Fuchsen | CAB | Hoffman Estates, IL | 1 Yr |
| Mike Benningfield | BPS | Clarksville, IN | 14 Yrs |
| Edric Winford | CAB | Hammond, IN | 10 Yrs |
| Brian Crawford | CAB | Noblesville, IN | 8 Yrs |
| Jim Weglarz | BPS | Portage, IN | 2 Yrs |
| Joshua Little | CAB | Kansas City, KS | 4 Yrs |
| Scott Ollendick | BPS | Olathe, KS | 13 Yrs |
| Kyle Brower | CAB | Wichita, KS | 4 Yrs |
| Eric Cutrer | CAB | Bowling Green, KY | 11 Yrs |
| Jody Gambill | CAB | Lexington, KY | 3 Yrs |
| Ryan Hutson | CAB | Louisville, KY | 6 Yrs |
| Don Levins | BPS | Bossier City, LA | 6 Yrs |
| Seth Theriot | BPS | Denham Springs, LA | 11 Yrs |
| Chad Clow | CAB | Gonzales, LA | 1 Yr |
| Richard Gilbert | CAB | Berlin, MA | 1 Yr |
| Ed Cuthbertson | BPS | Foxborough, MA | 11 Yrs |
| Allan Unrau | CAB | Winnipeg, MB | 6 Yrs |
| David Farmer | BPS | Arundel, MD | 5 Yrs |
| Rich Pschirrer | CAB | Scarborough, ME | 18 Yrs |
| Keith Maltz | BPS | Auburn Hills, MI | 12 Yrs |
| Joe Ross | CAB | Dundee, MI | 18 Yrs |
| John Woniewski | CAB | Grandville, MI | 14 Yrs |
| Bradley Gustafson | CAB | Saginaw, MI | 8 Yrs |
| Blair Hughes | CAB | Chesterfield Township, MI | 2 Yrs |
| Daren Muscha | CAB | East Grand Forks, MN | 6 Yrs |
| Marc Puhl | CAB | Owatonna, MN | 6 Yrs |
| Brenda Pawlak | CAB | Rogers, MN | 3 Yrs |
| Mark Sutton | CAB | Woodbury, MN | 1 Yr |
| Stephanie Degase | BPS | Branson, MO | 15 Yrs |
| David Smith | BPS | Columbia, MO | 14 Yrs |
| Richard Perkins | CAB | Hazelwood, MO | 1 Yr |
| Ryan Eberly | BPS | Independence, MO | 11 Yrs |
| Tony Lemmon | BPS | Outlet - Springfield, MO | 33 Yrs |
| Lee Beasley | BPS | Springfield, MO | 25 Yrs |
| Randy Nelson | BPS | St. Charles, MO | 17 Yrs |
| Patrick Renegar | BPS | Pearl, MS | 14 Yrs |
| Robert Weeks | CAB | Billings, MT | 12 Yrs |
| Nicholas Morales | CAB | Kalispell, MT | 7 Yrs |
| Jeffrey Friesen | CAB | Missoula, MT | 5 Yrs |
| Patricia Guitard | BPS | Moncton, NB | 3 Yrs |
| Todd Foxx | BPS | Cary, NC | 2 Yrs |
| Eric Winter | BPS | Concord, NC | 13 Yrs |
| Tammy Fonda-Quann | CAB | Garner, NC | 2 Yrs |
| Bill Stockstill | CAB | La Vista, NE | 16 Yrs |
| Lee Wiegand | CAB | Sidney, NE | 20 Yrs |
| Robert Pope | BPS | Hooksett, NH | 11 Yrs |
| Megan Werber | BPS | Atlantic City, NJ | 4 Yrs |
| Christopher Wilson | CAB | Albuquerque, NM | 12 Yrs |
| Tim Brown | BPS | Halifax, NS | 3 Yrs |
| Jeremy Hendrick | BPS | Las Vegas, NV | 10 Yrs |
| Charles Terhune | CAB | Reno, NV | 1 Yr |
| Rob Barber | BPS | Auburn, NY | 15 Yrs |
| Scott Armstrong | CAB | Cheektowaga, NY | 6 Yrs |
| Perry Planck | BPS | Utica, NY | 15 Yrs |
| Kenneth Howard | CAB | Avon, OH | 4 Yrs |
| Michael Adlesh | CAB | Centerville, OH | 16 Yrs |
| Bill Dillaha | BPS | Cincinnati, OH | 11 Yrs |
| Matthew Mulig | CAB | Columbus, OH | 4 Yrs |
| Scott Liebert | BPS | Rossford, OH | 15 Yrs |
| James Daugherty | CAB | West Chester, OH | 6 Yrs |
| Mike McClure | BPS | Broken Arrow, OK | 14 Yrs |
| Melinda Roberts | BPS | Oklahoma City, OK | 15 Yrs |
| Eric Carter | CAB | Oklahoma City, OK | 6 Yrs |
| David Maynes | CAB | Barrie, ON | 5 Yrs |
| Giles Fisher | BPS | Niagara, ON | 14 Yrs |
| Rick Hunter | CAB | Ottawa, ON | 4 Yrs |
| Shawn Hewitt | BPS | Vaughan, ON | 8 Yrs |
| Mark Goldsmith | CAB | Springfield, OR | 6 Yrs |
| Bruce Miller | CAB | Tualatin, OR | 2 Yrs |
| Edward Bartolotta | CAB | Hamburg, PA | 8 Yrs |
| Justin Brisson | BPS | Harrisburg, PA | 6 Yrs |
| Keith Mitchell | CAB | Fort Mill, SC | 1 Yr |
| John Large | CAB | Greenville, SC | 7 Yrs |
| Chris Baker | BPS | Myrtle Beach, SC | 20 Yrs |
| Benjamin Grenier | CAB | Mitchell, SD | 14 Yrs |
| Brad Dye | CAB | Rapid City, SD | 14 Yrs |
| Dan Langford | CAB | Regina, SK | 4 Yrs |
| Wayne Yakielashek | CAB | Saskatoon, SK | 3 Yrs |
| Jeff Hall | BPS | Bristol, TN | 12 Yrs |
| Jarron Ritchie | BPS | Chattanooga, TN | 12 Yrs |
| Michael Alvarado | BPS | Memphis, TN | 10 Yrs |
| Terry Coughlin | BPS | Nashville, TN | 15 Yrs |
| Chris Vaden | BPS | Sevierville, TN | 13 Yrs |
| David Hagel | BPS | Memphis, TN | 16 Yrs |
| Matthew Malone | CAB | Allen, TX | 5 Yrs |
| Matthew Burtch | CAB | Buda, TX | 9 Yrs |
| Bryan O'Grady | CAB | El Paso, TX | 2 Yrs |
| Steven Andognini | CAB | Fort Worth, TX | 8 Yrs |
| Kathy Thompson | BPS | Garland, TX | 12 Yrs |
| Bill Megelich | BPS | Grapevine, TX | 13 Yrs |
| Jesse Garcia | BPS | Harlingen, TX | 6 Yrs |
| JR Young | BPS | Katy, TX | 4 Yrs |
| Rodney Davidson | CAB | League City, TX | 7 Yrs |
| Nicholas Weaver | CAB | Lubbock, TX | 4 Yrs |
| Robert Thomas | BPS | Pearland, TX | 4 Yrs |
| Asa Ewing | BPS | Round Rock, TX | 6 Yrs |
| Jesse Pompa | BPS | San Antonio, TX | 13 Yrs |
| Jeffrey Haslam | CAB | Waco, TX | 15 Yrs |
| Curtis Smith | CAB | Farmington, UT | 4 Yrs |
| Jason Porter | CAB | Lehi, UT | 11 Yrs |
| James King | BPS | Ashland, VA | 11 Yrs |
| Amy Benton | CAB | Bristol, VA | 18 Yrs |
| Doug Campbell | CAB | Gainesville, VA | 1 Yr |
| David Steveson | BPS | Hampton, VA | 4 Yrs |
| Linda Gallimore | CAB | Short Pump, VA | 4 Yrs |
| Joshua Anderson | CAB | Lacey, WA | 5 Yrs |
| Bryce Matthies | BPS | Tacoma, WA | 2 Yrs |
| Sherry Cook | CAB | Tulalip, WA | 1 Yr |
| Kelly Hescheles | CAB | Union Gap, WA | 4 Yrs |
| Eric Moran | CAB | Green Bay, WI | 2 Yrs |
| Patrick Connaughty | CAB | Prairie Du Chien, WI | 3 Yrs |
| Ryan Roberts | CAB | Richfield, WI | 6 Yrs |
| Rory Vaughan | CAB | Sun Prairie, WI | 1 Yr |
| Neil Depugh | CAB | Charleston, WV | 8 Yrs |
| Joseph Neary | CAB | Wheeling, WV | 9 Yrs |