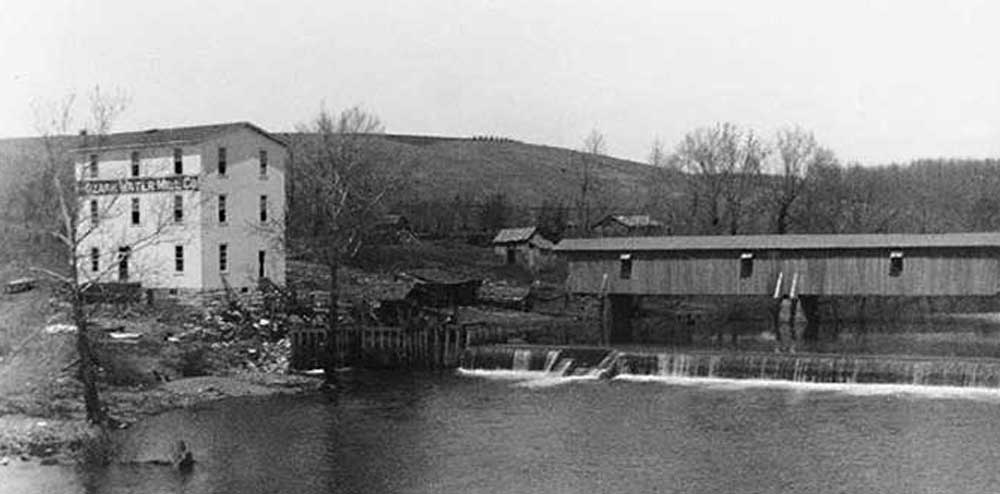 Restoration work to begin on

Historic Ozark Mill

Craftsmen to restore 1800s grain mill, laying groundwork for future development

Ozark, Mo. — Noted conservationist and Ozarks native Johnny Morris has begun efforts to restore the historic Ozark Mill, a working grain mill that dates back to 1833, with plans to one- day open the Mill to the public.

Located on the banks of the Finley River near charming downtown Ozark, Missouri, the mill will undergo extensive preventative maintenance to restore its foundation and prevent further flood damage. As part of the effort, the entire structure will be lifted and temporarily moved to allow crews the ability to completely rebuild its foundation.

Our intention is to protect and restore the building to honor its remarkable heritage, said Johnny Morris, who was partly inspired by his own family history. His grandfather owned and operated a mill in nearby Willard, Missouri. We intend to eventually open this historic facility to the public and create a very special venue that celebrates our region's unique history, ingenuity and culture. We are grateful to the City of Ozark, and particularly neighbors of the mill, for their support in this process while this important work takes place.

The Mill's rich history and location on the beautiful Finley River makes it a fitting addition to Morris' other nature-based attractions in the Ozarks including Dogwood Canyon Nature Park, which also features an iconic working gristmill as part of its welcome center for visitors. Nearby, Top of the Rock Ozarks Heritage Preserve is home to the Lost Canyon Cave and Nature Trail, an exhilarating two-and-a-half-mile trail journey that immerses visitors in the breathtaking natural beauty of the Ozarks including a massive cave. Top of the Rock also features the Ancient Ozarks Natural History Museum, home to the largest private collection of Native American art and artifacts in the world.

Significant restoration efforts are expected to begin in February 2018. Additional details about future plans for Ozark Mill will be announced as they are finalized in the coming months.