2020 Spring Fishing Classic

Canada: April 9 – 29
U.S. Dates: March 12–April 1
Rod & Reel Trade-In
April 9 – 29
Trade in your old rod or reel and save even more on a new one!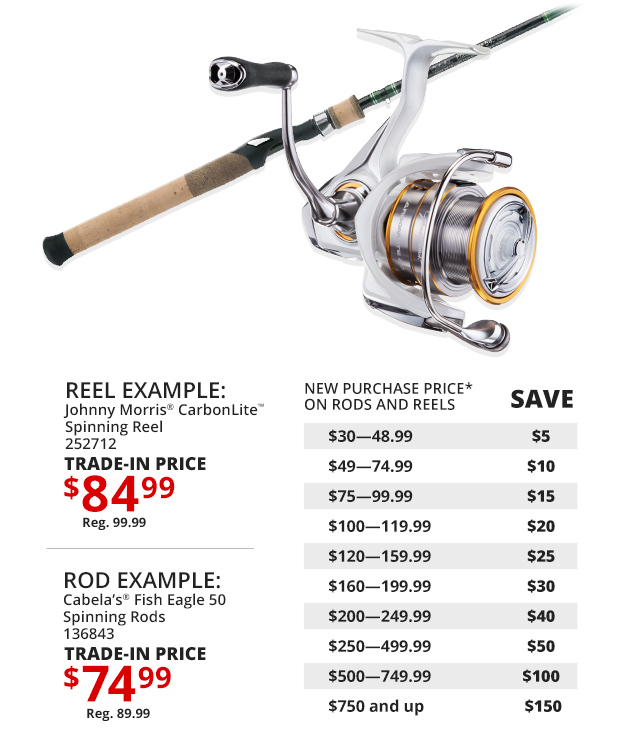 Applies to all rods and reels including fly. Savings based on purchase price. Offer valid on in-stock rods and reels only. Selection may vary by location.
Thanks to all participating vendors for benefiting local nonprofit organizations! To date, we have donated over 400,000 items.
*Applies to prices marked. This program does not apply to any combo purchase. Limit 1 coupon per new rod or reel. Donate all working rods and reels during trade-in dates and receive a discount coupon to be used toward the purchase of a new rod or reel. All trade-ins will be inspected to ensure good working order, and then donated to local nonprofit organizations to help with their outdoor education programs. See store for details.
We're focused on helping you gear up on essentials and outdoor gear. To do so, we're eliminating certain activities of the Spring Fishing Classic including our free seminars and family events.
Seminars and activities are subject to change and may vary by location. See store for details. All giveaways available while supplies last — styles may vary.