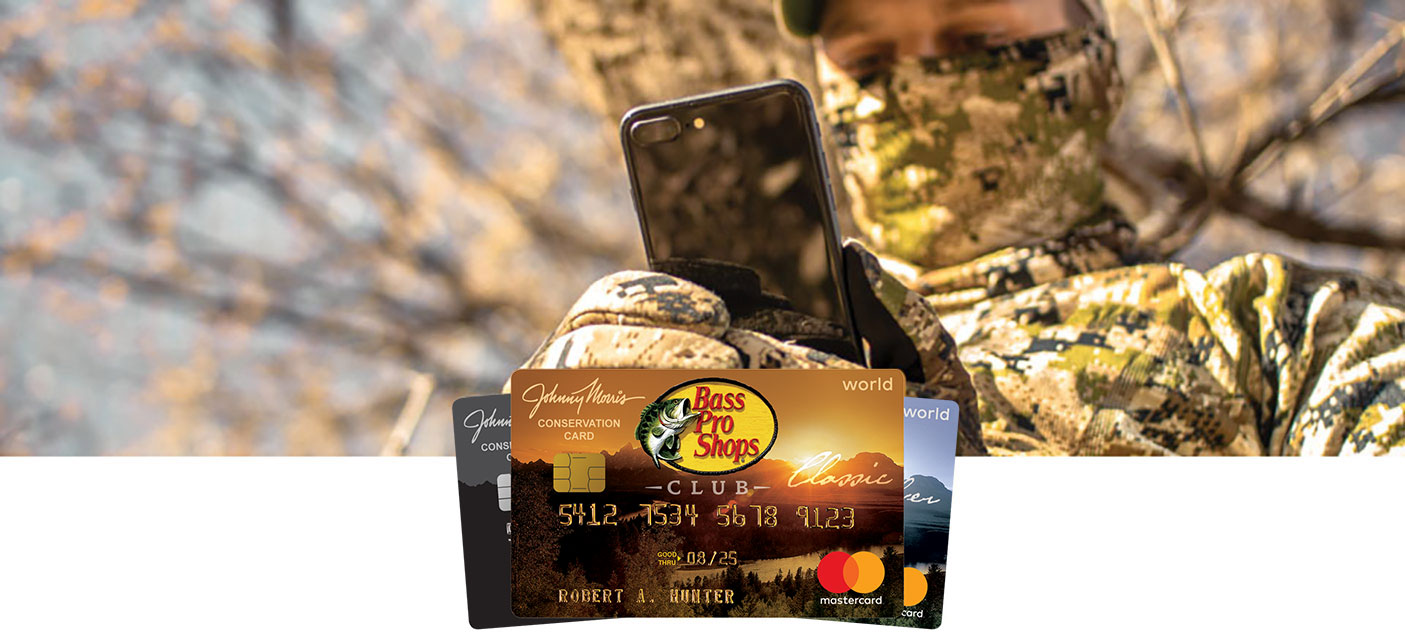 TAKE ADVANTAGE OF YOUR
ENHANCED ONLINE EXPERIENCE TODAY!
Bass Pro Shops CLUB and Capital One® have partnered to bring you an enhanced online account
online experience. By setting up your account with Capital One, you unlock great benefits.
Manage your account when and where you want, pay your bill anytime, anywhere, track your
CLUB Points, and so much more.
ENJOY ALL THESE BENEFITS WHEN YOU SET UP ONLINE ACCESS
AUTO PAY
Set up AutoPay to have your payments made automatically each month.
AUTHORIZED USERS
Earn CLUB Points with an authorized user, to redeem for FREE GEAR. They'll share your line of credit and their charges will be visible on your bill so you can stay in charge of your account. As the primary cardholder, you'll still be responsible for all charges.
PROACTIVE ACCOUNT ALERTS
Receive an alert if Capital One detects a potential mistake or unexpected charge. You can also set up personalized emails or text reminders to help you stay on top of your account. Add an email address and enroll to receive alerts.
PERSONALIZED PAYMENTS
Personalize your payment by picking your own monthly due date and payment method- check or online
ACCESS TO HIGHER CREDIT LIMIT
Get more credit when you need it. Just answer a few questions and then apply with a click once you've set up your online account.
24/7 CUSTOMER SERVICE
Helpful customer service representatives are available to you 24 hours a day
SECURITY ALERTS
Receive a text or email alert when Capital One detects suspicious activity on your account so you can take action immediately and prevent further unauthorized activity from taking place.
$0 FRAUD LIABILITY
If your card is ever lost or stolen, you're protected from fraudulent charges with $0 fraud liability.
CARD LOCK
Capital One allows you to lock your card in the Capital One Mobile app if it's misplaced, lost, or stolen. Some activity may continue, including returns, credits, payments, interest, dispute adjustments, other account fees, purchase transactions during system downtime and certain other exempted transactions.
VIRTUAL CARD NUMBERS
Pay for online purchases with virtual card numbers and keep your actual card number to yourself.
REPORT FRAUD
Quickly and easily report anything suspicious. We will get right on it and let you know if we need anything else.
CAPITAL ONE MOBILE APP
Get the convenience of your online account by downloading the Capital One Mobile App.
CREDITWISE® FROM CAPITAL ONE†
Monitor your credit with CreditWise. It's free for everyone—whether or not you have a Capital One credit card—and it won't hurt your score.
SURESWIPE / TOUCH ID
Sign in to Capital One Mobile quickly and securely with your fingerprint or customized pattern.
PARIBUS FROM CAPITAL ONE
Paribus finds potential savings on your previous online purchases and gets you money back, effortlessly. It's free for everyone - whether or not you have a Capital One credit card. Learn More about Paribus when you set up online access.

The Bass Pro Shops CLUB card is issued by Capital One Bank (USA), N.A., pursuant to a license from Mastercard International Incorporated.
†Your CreditWise® score is calculated using the TransUnion® VantageScore® 3.0 model, which is one of many score models used by lenders. The availability of the CreditWise tool depends on our ability to obtain your credit history from TransUnion.