Anglers join together to help the people of the Bahamas
We invite you to read all about it and join with us!
"All of us are heartbroken by the devastation in the Bahamas, a magical place with beautiful people that holds a special place in the hearts of all anglers. We understand anglers and many others feel the same way and want to help but simply don't know where to start. This was our inspiration to create 'Anglers for the Bahamas' to unite anglers and other donors with the world leader in disaster relief - Convoy of Hope." — Johnny Morris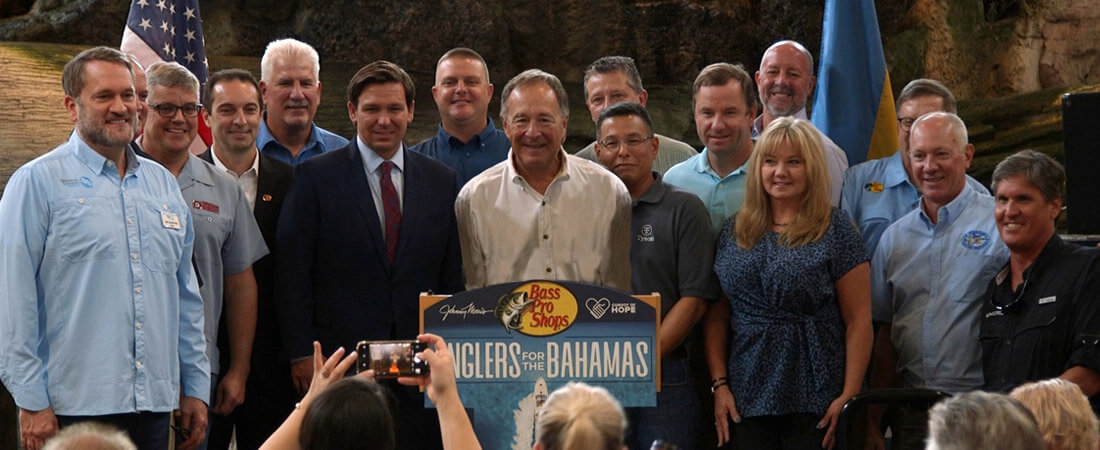 Last Thursday was a special day for our company. In the wake of catastrophic devastation caused by Hurricane Dorian, our founder Johnny Morris announced that Bass Pro Shops and Cabela's is donating $1 million – and was quickly joined by others raising a total of $2 million in pledges – and uniting anglers with Convoy of Hope, a worldwide relief leader in humanitarian aid based in our hometown of Springfield, Missouri.
The momentum continued Saturday morning with Johnny making another $1 million personal pledge and inviting customers to turn that into $2 million by adding to all customer donation round-ups by an additional $.25 on the dollar. To help achieve this challenge, he also pledged to donate $100 for every Johnny Morris Signature Series rod or reel purchase helping Anglers for the Bahamas to raise $4 million and growing for hurricane relief.
Kickoff Celebration Builds Excitement
The special event was kicked off by Danny Vinson, longtime Store Manager and current Regional Manager for the Southeast including all our Florida stores. The event took place at the Outdoor World in Fort Lauderdale, Florida – our fourth location – where we have been proudly serving the angling community for more than 20 years.
Danny was joined by other store managers including Chuck Stevens from Fort Myers, Scott Matthews from Palm Bay, Jamie Gonzalez from Miami and Scott Bodziak from World Wide Sportsman in Islamorada.
The event was inspired by Johnny's love for the people of the Bahamas, a dream destination for all anglers, where he has created many special memories and established meaningful friendships.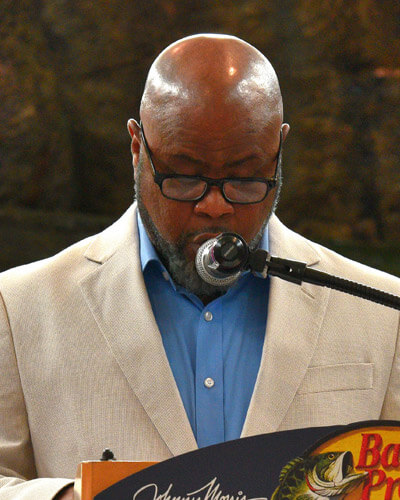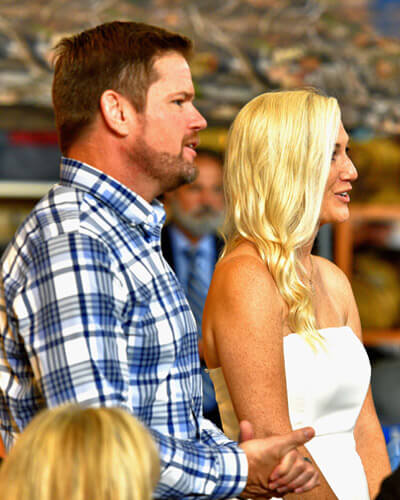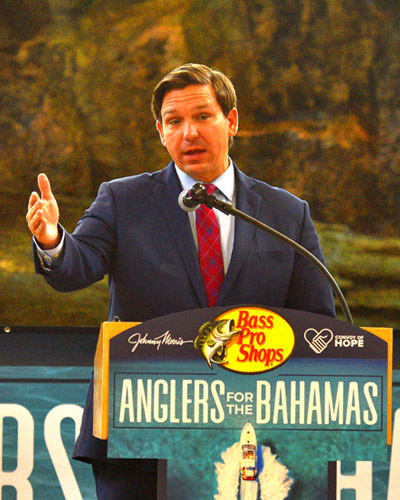 Fittingly, the event began with a blessing by Gregory Beneby, nephew of the late Reverend Willie James Duncombe, a Bahamian fishing guide and Pentecostal minister with whom Johnny developed a special bond while fishing in the Bahamas. The two became such great friends that Willie went on to officiate Johnny and Jeanie Morris' wedding ceremony, and they would later name their son in his memory – John Paul Willey Morris.
Held just one day after the anniversary of 9/11, the blessing was followed by the Pledge of Allegiance led by Command Sergeant Major Tom Satterly and his wife, Jen Satterly. Tom is a highly decorated American hero who was instrumental to the capture of Saddam Hussein and was portrayed in the film Black Hawk Down. Jen also worked in Special Operations.
Other special guests in attendance included Florida Governor Ron DeSantis, A-list celebrity Mark Wahlberg (via video call-in from his latest film shoot location), many prominent celebrity anglers including Captain Alex Adler, Captain Terry Robinson, Captain Jimmy Wickett, Captain Neal Stark, Captain Ray Rosher, Captain Art Sapp, Jamie Bunn, Diego Torian, George Poveromo, Rich Tudor and Scott Martin.
Key local conservation partners also participated in the event such as Eric Sutton, Executive Director of the Florida Fish and Wildlife Conservation Commission alongside Commissioners Steve Hudson and Rodney Baretto; Jim McDuffe, President of Bonefish Tarpon Trust; Brian Gorski, President of the Coastal Conservation Association of Florida; and Everglades Foundation CEO Eric Eikenberg.
Anglers for the Bahamas: Fishin' for a Mission

As of Saturday morning September 14th, Johnny Morris personally pledged an additional $1 million driving total donations to surpass $4 million… and counting!
Over 81,000 anglers have contributed
After Florida Governor DeSantis introduced him to the stage, Johnny made a commitment of $1 million on behalf of all of us including $500,000 in cash donations and $500,000 worth of donated goods including thousands of essential supplies including family-sized tents, outdoor cooking kits and protein-rich foods.
Johnny shared that we are also engaging our industry partners, customers and others to join our efforts, resulting in a total of $4 million targeted donations and growing since outreach began just last week. For example, Tyson Foods is donating 125,000 servings of canned chicken valued at $150,000 in honor of the late Don Tyson, former Chairman of the Board, President & CEO. Don was a close friend to Johnny and a world-renowned fisherman.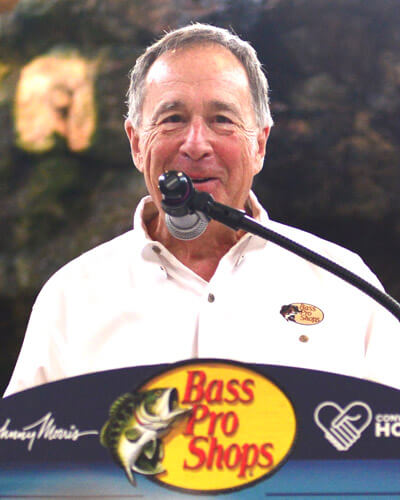 Calling All Anglers
We are inviting you and all anglers to join in our efforts to support the people of the Bahamas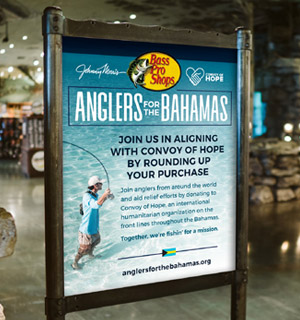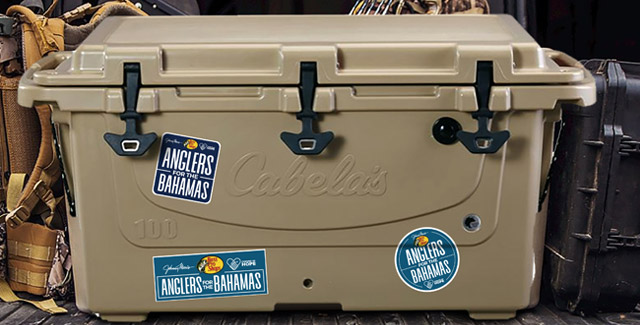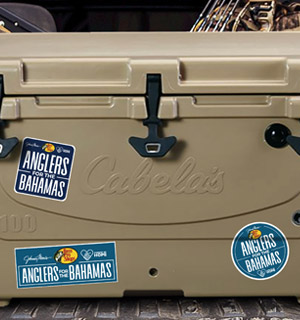 Beyond our pledge of financial support, Johnny feels we can play a far greater role in supporting the Bahamas and its wonderful people by uniting anglers with an efficient and highly respected relief organization, Convoy of Hope.
To reinforce this effort, we are directly appealing to anglers and our database of over 200 million outdoor enthusiasts to make donations through AnglersForTheBahamas.org and promoting the effort through our websites, email and social media channels.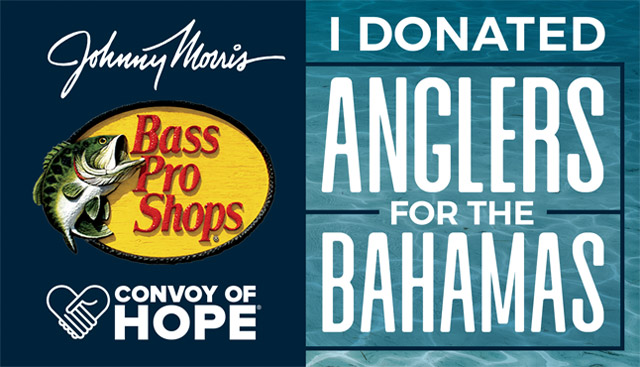 Free Decals for Donors!
Free with in-store donation of $5 or more
Round Up in Our Stores
We are also inviting customers to round up their purchases at all Bass Pro Shops and Cabela's locations. This effort has already raised nearly $100,000 in the first four days alone thanks to our great fishing customers!
Convoy of Hope, A Respected Worldwide Leader in Relief Efforts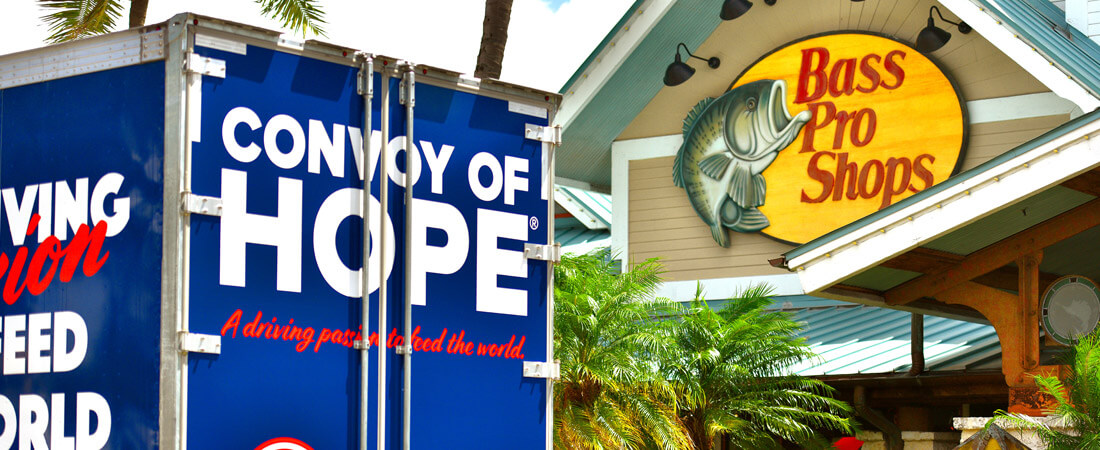 Johnny said, "We couldn't be more proud to partner with Convoy of Hope, a highly regarded 501(c)(3) not-for-profit charity with emergency responders currently plugged in on the front lines throughout the Bahamas. Based in our hometown of Springfield, Missouri, the international relief organization has built a reputation over the past 25 years of efficiently and effectively assisting communities impacted by natural disasters, crises and areas of extreme need around the world."
Key Highlights:
Worked on the ground in 48 states and more than 126 countries;
Responded to more than 370 disasters;
Served more than 100 million people in need;
Delivered 15,890 truckloads worth of food, water and relief supplies;
Mobilized more than 622,000 volunteers
Earned a "Four Star Charity" rating from Charity Navigator 16 years in a row, ensuring more than 90 percent of every dollar raised goes to support on-the-ground relief.
According to Convoy's Jeff Nene, "I think one of the reasons Bass Pro has worked with Convoy of Hope for so many years boils down to one word…trust. They have seen us time and time again, do what we say we are going to do. They trust us. And that trust is something we don't take lightly. Charity Navigators, the main charity watchdog group in this country, has given us their highest rating 16 years in a row. That is not to brag on us…but it's an outside expert telling you, this is a safe place to put your gift to help the people of the Bahamas."
The Fishing Community & Our Partners Step Up
Since initial outreach began late last week, several high-profile individuals and business partners have already pledged to donate to Convoy of Hope's efforts as part of "Anglers for the Bahamas." Bass Pro's goal for the campaign is to have a multiplying effect to do good. Preliminary support includes:
Tyson Foods – donating 125,000 servings of canned chicken valued at $150,000 in honor of the late Don Tyson, former Chairman of the Board, President & CEO, a world-renowned fisherman, founder of the Billfish Foundation that promotes conservation of marlin and other billfish and a member of the International Game Fish Association Fishing Hall of Fame
Jack Links Beef Jerky – donating 5,000 bags of high-protein jerky and an equivalent matching cash donation for a total gift of $50,000
Textron TRACKER OFF ROAD Vehicles – donating $100,000
Alan Williams (noted angler) – donating $100,000
Mastercard – donating $200,000 donation to Red Cross and waiving interchange fees through November 15 to several charitable donations including Anglers for the Bahamas in the name of Bahamas relief, as well as providing waivers to help get local businesses back on their feet
Pure Fishing (parent company of leading fishing brands including Abu Garcia, Berkley, Johnson and others) – donating $75,000
Navico Marine Electronics (Lowrance, Simrad, B&G, C-MAP) – donating $50,000
Champion Power Equipment (generators) – donating $23,000 in products and $10,000 cash
American Fishing Tackle Company – donating $30,000
True Timber (camouflage and fishing apparel) – donating $25,000
Engel Coolers – donating $25,000 in products
Nabholz Charitable Foundation – donating $20,000
Custom Protein (Bobby Allison) – donating $20,000
Country music star and avid angler Luke Bryan – donating $10,000
Sunglass Hut – donating $10,000 and a large quantity of sunglasses
Tree House Kids, Inc. – donating $10,000
Feradyne Outdoors – donating $10,000
Springfield Striping – donating $10,000
PS Seasonings & Spices – donating $10,000
SOS – donating $10,000
Leica Sport Optics – donating $10,000
Champagne Metals – donating $10,000
CPWG Engineering – donating $10,000
Keen Footwear – donating $10,000
Outdoor Cap – donating $10,000
Precision Shooting Equipment, Inc. – donating $10,000
SOG Specialty Knives & Tools – donating $10,000
Additional generous support comes from other initial partners including Famous Dave's BBQ, Barrows Excavation, Opie's Landscaping, Foggy River Realty, Keys Painting, Tom Boyce Excavating, Springfield ReManufacturing (Jack Stack), Martin Dingman, Greg and Roz Slavik, Diver's Direct and C&F Masonry.
How Can I Help?
By working together, each one of us can make a big difference. We invite you to give whatever you can – $5, $10, $100, whatever.
Donate to Anglers for the Bahamas
The Bahamas is every angler's dream destination. Today, they need our help. Up to 90 percent of the buildings in the most affected areas are destroyed. An estimated 70,000 people are now homeless and in need of food and water.
Please donate to Convoy of Hope and support their efforts on the ground. No dollar amount is too small: www.AnglersForTheBahamas.org.
Donate at our stores
Round-up your purchase at any Bass Pro Shops or Cabela's store, and look out for these new decals for donors coming soon in stores for anyone who donates a minimum of $5 or more.
Spread the Word
After you donate, please post and share on your personal social media channels and encourage everyone to support Anglers for the Bahamas.