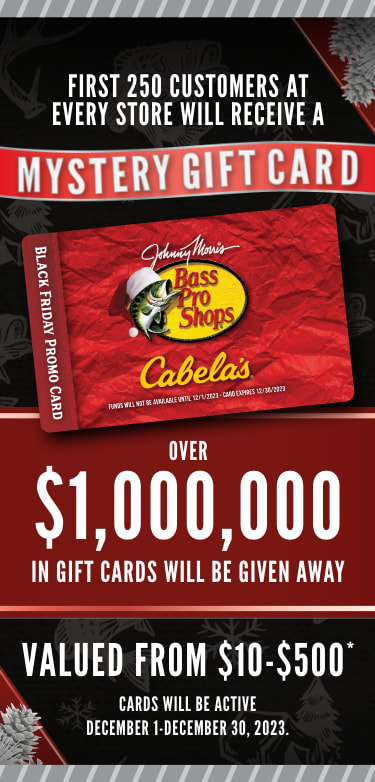 FIRST 250 customers at every store will receive a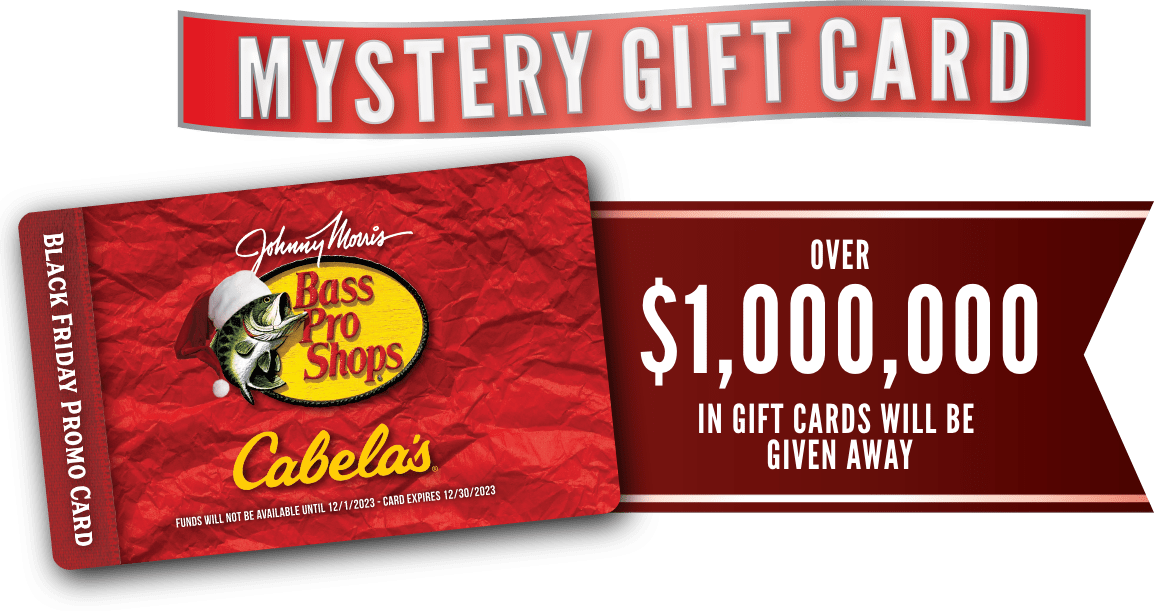 Valued from $10-$500*
Cards will be active December 1-December 30, 2023.
BASS PRO SHOPS AND CABELA'S
BLACK FRIDAY GIFT CARD GIVEAWAY
TERMS & CONDITIONS
NO PURCHASE OR PAYMENT NECESSARY TO PARTICIPATE. A PURCHASE WILL NOT INCREASE YOUR CHANCES OF RECEIVING A GIFT CARD.
DESCRIPTION: The Bass Pro Shops and Cabela's Black Friday Gift Card Giveaway 2023 ("Giveaway") is offered at participating stores on Friday, November 24, 2023. The first 250 people (age 18+) to enter the store will receive a gift card ranging in value from $10 - $500 and valid for use December 1 – December 30, 2023. Gift cards are available while supplies last. Participation is first come, first served, and is not guaranteed. Participation is at your sole risk and liability. Sponsor (defined in Section 2) is not responsible for any disputes between participants. All decisions by Sponsor and its representatives are final. Limit one gift card per person.
ELGIBILITY: Open to legal residents of the 50 United States and District of Columbia who are 18 years of age or older. Employees of Bass Pro Outdoor World, LLC (the "Sponsor"), Cabela's Wholesale, LLC ("Cabela's"), and their respective subsidiaries, agencies, affiliates and members of the immediate families (spouses and parents, siblings, children and their spouses and in-laws) and persons living in the same household of such individuals are not eligible. Void were prohibited.
ODDS: Odds per store (except in NY & FL) for successful participants: $10 gift card 1:1.5; $25 gift card 1:5.5; $50 gift card 1:12.5; $100 gift card 1:18; $500 gift card 1:83. Odds per store in NY & FL for successful participants: $10 1:1.3; $25 1:7; $50 1:18; $100 1:50; $500 1:125.
GENERAL: Gift cards are valid for use Dec. 1 – Dec. 30, 2023, and are subject to terms and conditions stated on cards. Taxes on gift cards and expenses not specified, are the sole responsibility of participants. By participating, participants (and their parent/legal guardian if a minor) agree (a) to these Terms & Conditions and decisions of judges which shall be final in all respects; and (b) to release and hold harmless Sponsor, its subsidiaries, affiliates and agencies, and their respective directors, officers, employees, agents and representatives (the "Releasees") from any and all claims, demands, costs, expenses, liability, losses or damages of any kind resulting from their participation in the Giveaway or their acceptance, use or misuse of a gift card, including liability for personal injury or death. Sponsor reserves the right in its sole discretion to cancel or suspend the Giveaway or any portion thereof should viruses, bugs, or other causes corrupt the administration, security or proper play of the Giveaway..
ARBITRATION/CHOICE OF LAW: Except where prohibited, participants agree that (a) any and all disputes, claims, and causes of action arising out of or connected with this Giveaway, or any gift card received, or the determination of the gift card recipients, shall be resolved individually, without resort to any form of class action, and exclusively by arbitration pursuant to the Rules of the American Arbitration Association, then effective, in Greene County, Missouri, (b) any and all claims, judgements and awards shall be limited to actual out-of-pocket costs incurred, including costs associated with entering this Giveaway but in no event attorneys' fees; and (c) under no circumstances will participant be permitted to obtain awards for and participant hereby waives all rights to claim punitive, incidental and consequential damages and any other damages (other than for actual out-of-pocket expenses), and any and all rights to have damages multiplied or otherwise increased. All issues and questions concerning the construction, validity, interpretation and enforceability of these Terms & Conditions, or the rights and obligations of participant and/or Sponsor in connection with the Giveaway, shall be governed by, and construed in accordance with, the laws of the State of Missouri, without regard for conflicts of law doctrine, and all proceedings shall take place in Greene County, Missouri.
Sponsor: Bass Pro Outdoor World, LLC, 2500 E. Kearney, Springfield, MO 65898.
© 2023 Bass Pro Outdoor World, LLC.