THE SEEKINS EXPERIENCE
June 16–20, 20200
BUILD YOUR OWN RIFLE AND TRAIN AT A WORLD-CLASS FACILITY IN PICTURESQUE IDAHO
There's no doubt that Seekins Precision has become synonymous with accuracy in the AR-platform world. Now, they've broken ground in the bolt-action world with their new Havak rifle that's been turning heads since early this year. We've been getting lots of feedback from CLUB Members to create a trip just like this, so we listened and then stepped it up a notch. As part of this experience, you'll travel to Lewiston, ID and meet the entire family of people who stand behind Seekins Precision. Not only will you meet them and be immersed in the culture, but you also get your hands in on the build of your new rifle. Just when you think it couldn't possibly get better, you'll head to the range for a private training session with Jim Gilliland. We say it a lot, but this truly is a once-in-a-lifetime experience that eight CLUB Members are sure to enjoy.
YOUR EXPERIENCE INCLUDES:
1 custom Seekins Precision rifle package
Tour of the Seekins Precision facility and be a part of the build process of your rifle
Private range days with world-renowned sniper Jim Gilliland and PRS Champion Bryan Morgan of Hat Creek Training
Hells Canyon River jet-boat tour
4 nights' accommodations
All meals and beverages while on-site
Round-trip ground transfer to/from Lewiston, ID (LWS) Airport
Dedicated CLUB host and professional photographer
Complimentary medical evacuation, rescue and security extraction from Ripcord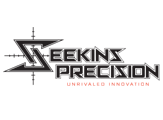 $8,250 per person
SOLD OUT
---
Available exclusively to Bass Pro Shops and Cabela's CLUB Members.
RESERVE YOUR ADVENTURE TODAY.
BASS PRO SHOPS AND CABELA'S CLUB
Available exclusively to Bass Pro Shops and Cabela's CLUB Members.
RESERVE YOUR SPOT TODAY. CALL 1.833.SIG.EVNT
MONDAY-FRIDAY: 7:00a.m. - 5:00p.m. (MDT)

©1996-2020 Cabela's Inc. All Rights Reserved. Please read Cabela's Privacy Policy and Legal Notices.