BASS PRO SHOPS ANNOUNCES MEGA
OUTDOOR STORE IN TAMPA/HILLSBOROUGH COUNTY, FLORIDA
Store Will Serve the Greater Brandon/Tampa Market
Brandon, FL — Bass Pro Shops, America's most popular outdoor store, will open a 140,000 square foot Bass Pro Shops Outdoor World® store in Hillsborough County, Florida to serve the greater Tampa market. The new destination store will be located at a very high-profile site directly on I-75 at Adamo Drive.
In addition to being the world's leading supplier of premium fishing tackle, Bass Pro Shops is also America's leading supplier of hunting gear and the top retailer of Remington and Winchester guns and ammo as well as the top retailer of Bowtech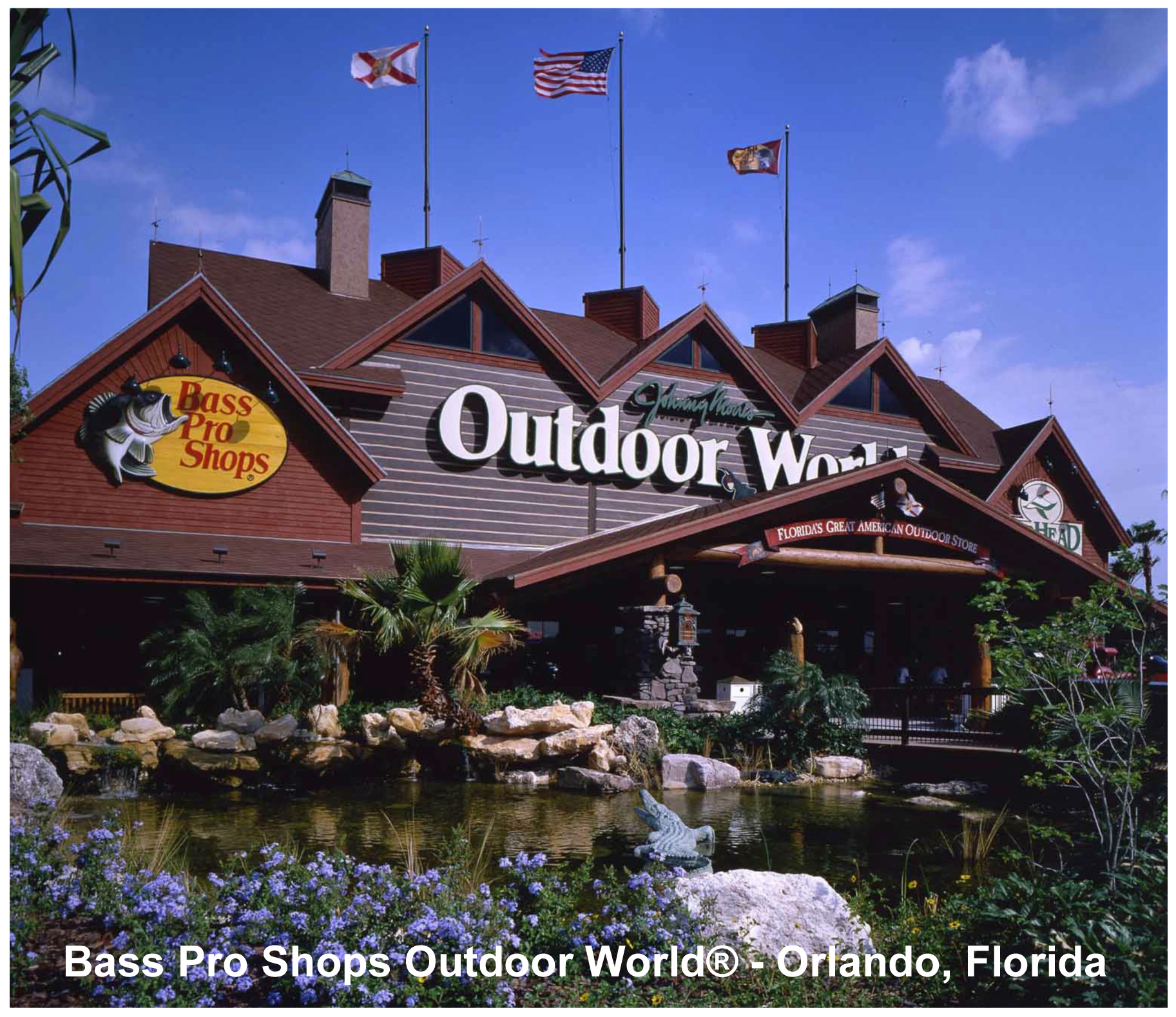 and PSE archery equipment.
Bass Pro Shops also manufactures and sells the world's leading brands of fishing boats--Tracker, Nitro, SunTracker, Tahoe, Grizzly and Mako factory direct to fishermen.
More than just a fishing and hunting store, Bass Pro Shops offers equipment and clothing for hiking, backpacking, wildlife viewing, camping, outdoor cooking and more. A gift and nature center will serve up a wide variety of outdoor-related items, from lamps and dishes to bird feeders and furniture.
"We have enjoyed a long relationship with Florida sportsmen," stated Johnny Morris, Founder of Bass Pro Shops. "We opened our first Florida store in Ft. Lauderdale 15 years ago and our new Outdoor World® store will be our 9th location in this great outdoor state. The new Bass Pro Shops Tampa Outdoor World® will be an outdoor destination store that offers a broad selection of high quality gear at Bass Pro Shops' low prices and famous friendly, expert service to area sportsmen and women as well as the14.5 million visitors to the Tampa area each year."
"We have been hoping for a store in the Tampa market for a long time and feel we have found the absolute best retail location in the market to build our new super outdoor store. We are very grateful for the support of everyone at Hillsborough County and Developer David Verardo for this opportunity," Johnny Morris concluded.
The Tampa Outdoor World store will feature the much-acclaimed Uncle Buck's Fishbowl and Grill. This nautical-themed entity located within the store, features a truly unique atmosphere and design geared for family fun and dining. Ten uniquely themed bowling lanes offer customers the chance to bowl 'in the ocean.' Casual family dining will be available in the Grill where customers may select from a menu featuring a variety of appetizers, sandwiches, salads and burgers.
"Bass Pro Shops and Tampa/Hillsborough County are a perfect fit. We are a community of outdoor enthusiasts who enjoy a wide variety of sport activities year-round. Both Bass Pro and the County are committed to environmental conservation and preserving the natural landscape. I want to commend Bass Pro on their outstanding record of partnership with local communities. We are very pleased to welcome them to Hillsborough County," said Commission Chairman Ken Hagan.
"I want to thank John Morris, the Hillsborough County Commission and Staff for their willingness to work with me to enable Bass Pro Shops to be a significant part of the Estuary project. The Bass Pro store will not only anchor the project but will be a catalyst for additional job creation and other quality development opportunities on the west of I- 75. I look forward to being a part of that evolution," commented David Verardo of I/75 Palm River Road LLC.
"The Florida Fish and Wildlife Conservation Commission and the Wildlife Foundation of Florida are pleased to hear Bass Pro Shops is now opening a new store in the Tampa area! We already have a great working relationship with Bass Pro Shops, from support for our youth conservation programs to our exciting new TrophyCatch program promoting catch and release of trophy bass in Florida. They have always been a pleasure to work with and continue to show outstanding leadership and support for fishing, hunting and outdoor recreation in Florida. Bass Pro Shops has been an enthusiastic and innovative conservation partner with FWC, and now they are in Tampa it will only help make our working relationship in Florida that much stronger. Welcome to Tampa!" stated Nick Wiley Executive Director of Florida Fish and Wildlife Conservation Commission.
LONG HISTORY OF SUPPORTING CONSERVATION IN FLORIDA AND BEYOND
Bass Pro Shops is proud to be the lead sponsor of the new Florida TrophyCatch program and looks forward to continuing to partner with the Florida Fish and Wildlife Conservation Commission and the Wildlife Foundation of Florida on youth education/outreach and fisheries enhancement efforts. Johnny Morris is the inspirational leader for Conservation initiatives at Bass Pro Shops and was recently recognized by the state of Florida and the other 49 Fish and Wildlife Agencies through the Association of Fish and Wildlife Agencies as the Citizen Conservationist of the year. Bass Pro Shops is the all time leading donor of the National Wild Turkey Federation and is a significant contributor to many other fish and wildlife conservation efforts.
The store will initially generate approximately 250 jobs which will be offered to the many outdoor enthusiasts in the Tampa area.
Bass Pro Shops will host over 120 million people visiting its 77 stores and Tracker Marine Centers across America and Canada this year.
FAMOUS FOR CUSTOMER SERVICE, Bass Pro Shops was one of only eight retailers in America named a J.D. Power Customer Service Champion, based on customer service excellence. Bass Pro Shops has also been recognized numerous times for their conservation and outdoor education efforts as well as for what they do to support our military men and women. Bass Pro Shops was recently named by Advertising Age magazine as one of the Top 10 Hottest Brands in America along with name brands such as Old Spice, M&M's, iPad® and Droid.
Bass Pro Shops' award-winning, outdoor stores are known for combining retail with entertainment, conservation and outdoor education while delivering unmatched value and service to customers. The average customer stays 2½ hours and drives an average distance of over 50 miles.
Unique exterior and interior motifs have branded Bass Pro Shops as visually appealing, high-quality outdoor stores. The outdoors feel is brought indoors through massive log and rock work, large indoor aquariums and water features stocked with native fish species as well as an extensive collection of museum quality fish and wildlife mounts. Historic photos and exhibits will pay tribute to Florida's great outdoor heritage.