Bass Pro Shops @ Nashville, TN
April 28-30
Take Off from the store April 29 @ 6pm.
Final Weigh-In April 30 starting @ 4am.
Check out our wide selection of Bowfishing Gear! Product demos April 28 & 29, 10am-7pm
Visit the Muzzy® booth and meet Tim Wells of Relentless Pursuit April 28, Noon-5pm; April 29, 10am-1pm
FREE Samples by Mission BBQ & Silver Carp samples by Tennessee Wildlife Resources Agency Saturday, April 29, 11am-4pm
Besides being a fun weekend for participants and families, these bowfishing events help clean up the waterways and provide lasting environmental benefits for area lakes and rivers.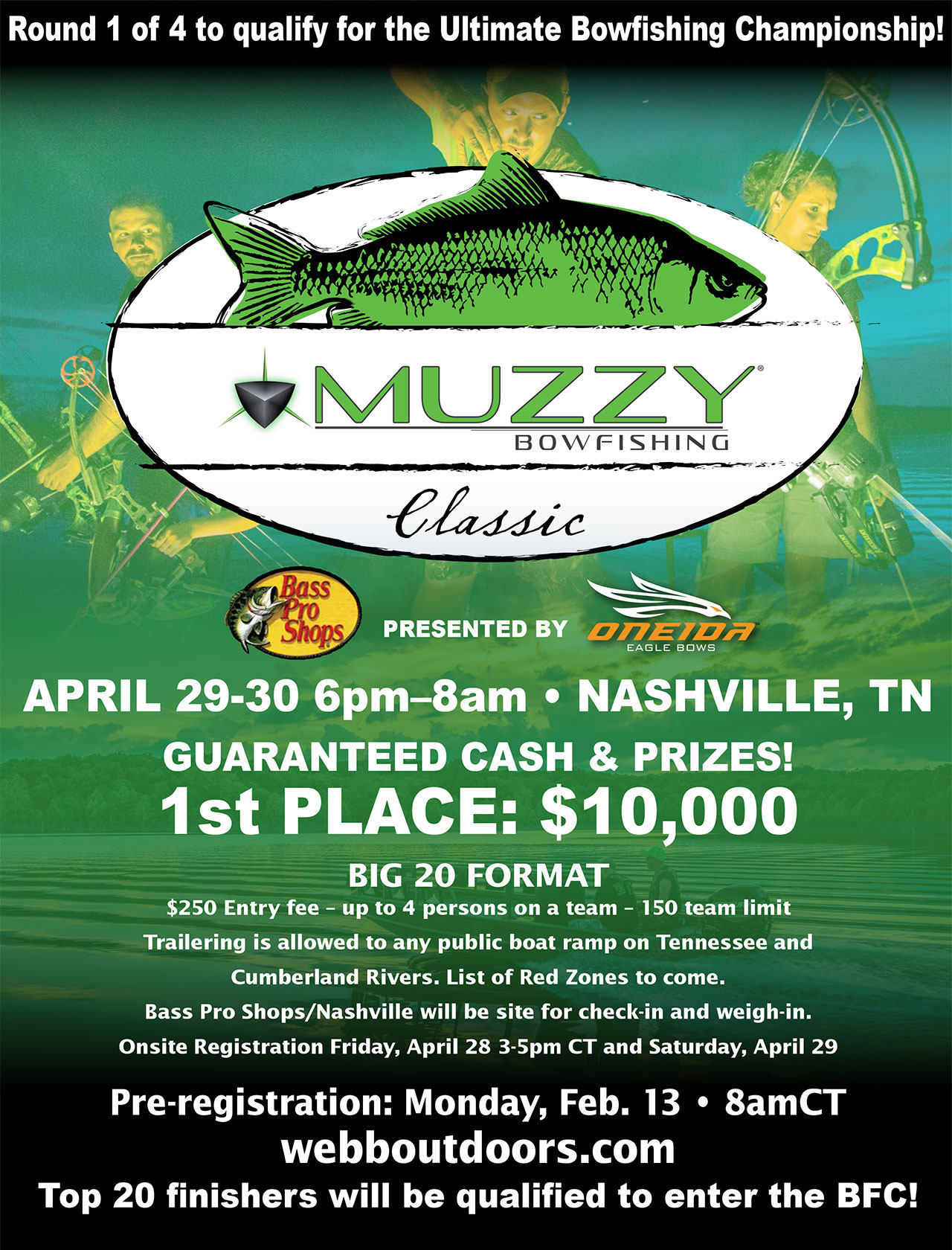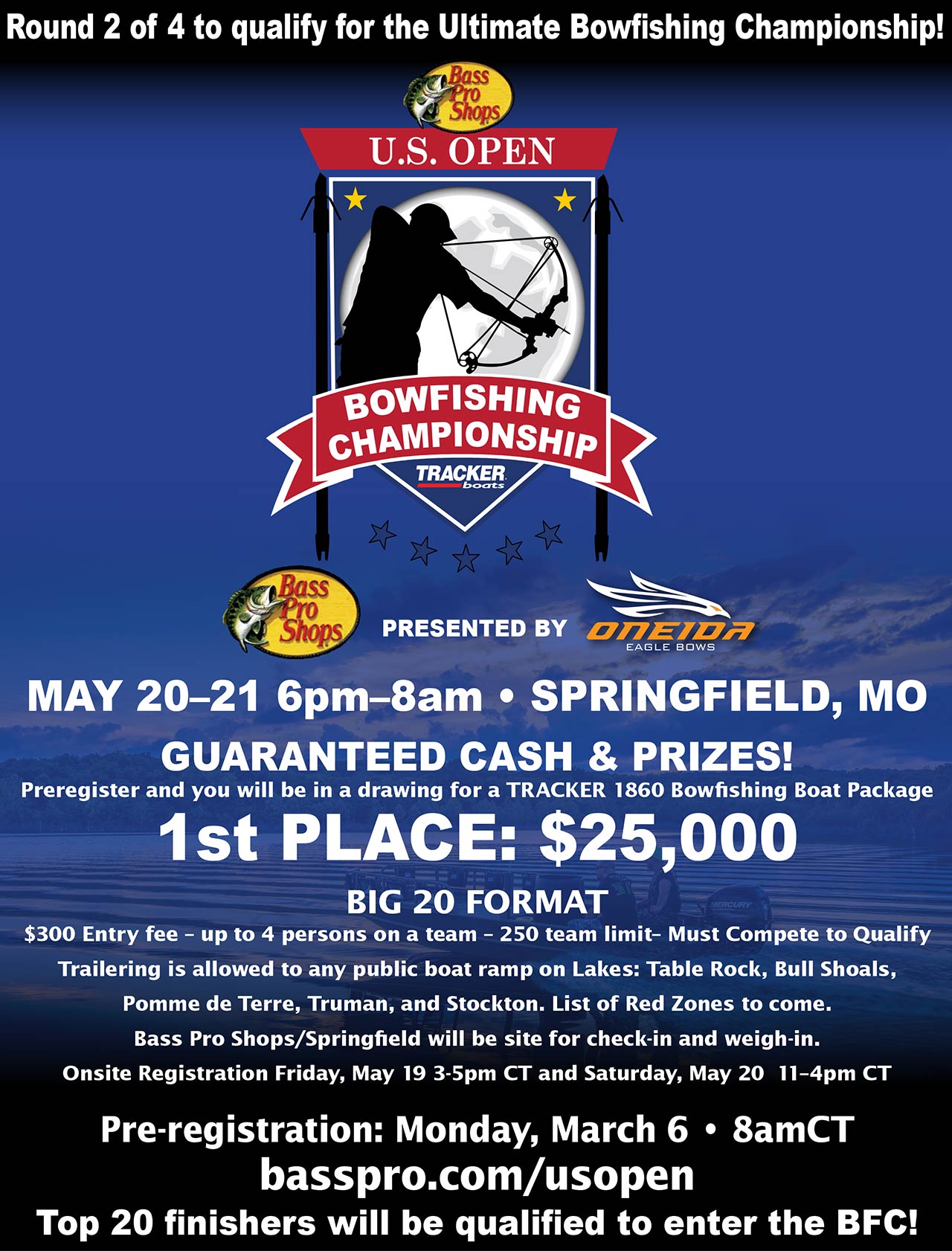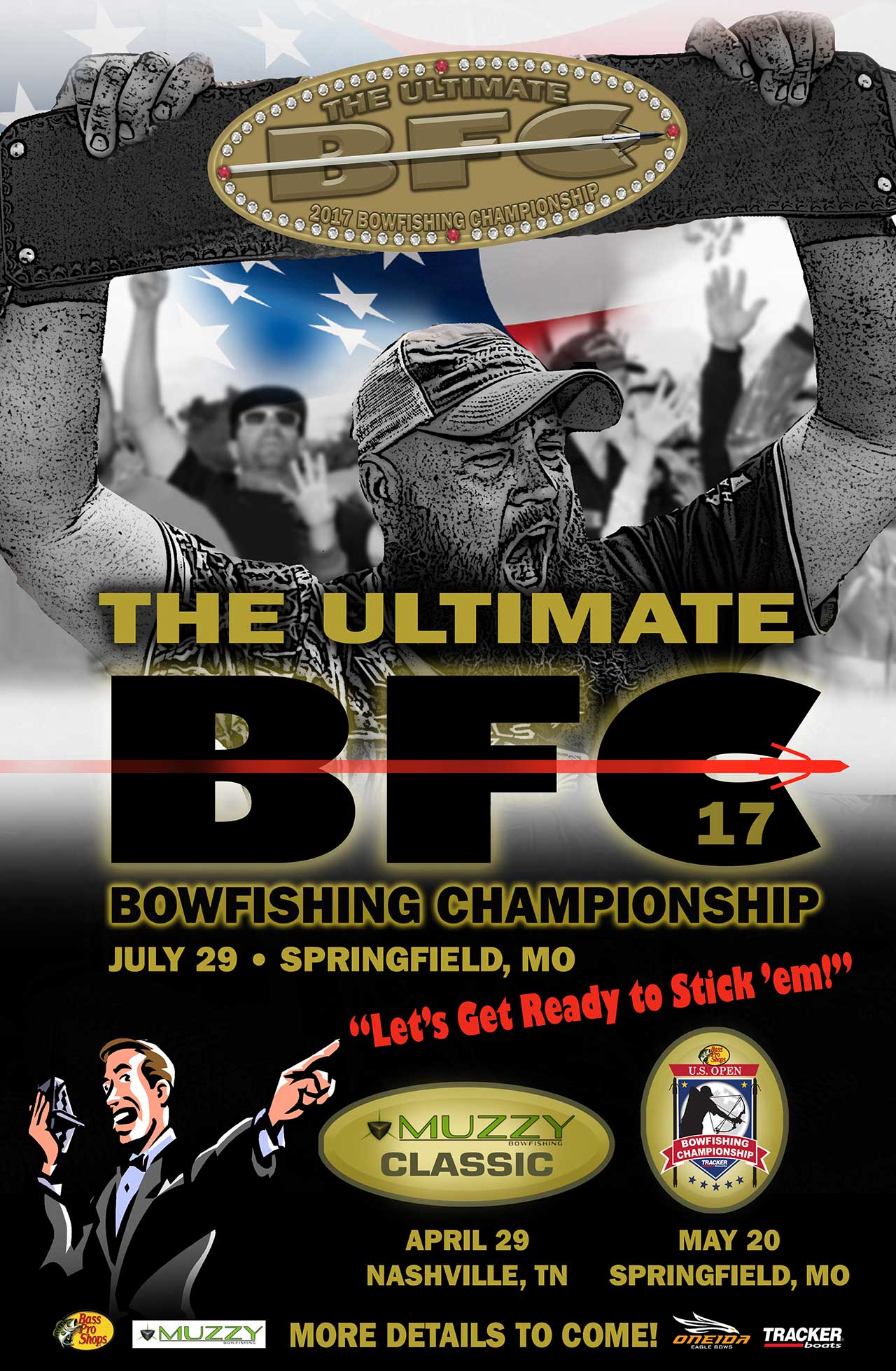 Tournament Red Zones
April 29-30, 2017
Restricted RED ZONE areas are enforced for this tournament. NO BOATS, SCOUTING, OR FISHING ALLOWED for 7 DAYS PRIOR to and DURING the tournament. Violators will be disqualified—NO QUESTIONS! Know where these areas are—it is your responsibility!
Please be respectful of others on the water and adjacent banks. Quiet zone within 100 yards of any public marina / campground (no lights, no wake)
Old Hickory:
Hwy 109 and down stream to the dam
Cheatham Lake:
Sam's Creek
Pond Creek
Marrowbone Creek
Sycamore Creek
Cheatham Dam Rec. Area (mile marker 151.5 to 150 no air boats on pad or lights on)
Barkley Lake:
Long Creek
Lick Creek
Cross creek refuge (any water that connects to the main river accessible by boat is ok, If you have to jump a leave or run dry it is refuge)
Kentucky Lake:
Sled creek
Big Bear Creek
Wheeler Lake:
No fans or airboats in refuge area
Tennessee Lakes and Rivers:
Strict airboat noise restrictions in place
No boats within 300ft of any marina basin-all waters
Lake Guntersville:
North Sauty Refuge
Crow Creek Refuge
East bank north of Hwy 35 Bridge to mouth of Jones Creek
Jackson Co Park/Roseberry Creek/Dry Creek slough from mouth of main river
Goose Pond Park and Marina basin, anywhere behind island
River Bend Marina and Condo's and Anchorage Marina in Siebold Creek
Lake Guntersville State Park Campground from beach north to point
Guntersville Yacht Club slough
Alred Marina basin and slough
Big Spring Creek from mouth at main river south including Pole Cat Branch
Big Spring Creek mouth north to start of Short Creek Bluff including Signal Point
Brown Creek from Hwy 69 Causeway south to power lines
Polk/Beech Creek slough west of CR 14 Bridge
Brown Creek west bank from Hwy 69 Causeway north to Marshall No. 2 including slough
Dripping Springs Branch slough from mouth of main river
John's Hollow/ Jagger Branch slough in Honeycomb Creek
All Marina's (No boats within 300 feet of any marine basin)
All areas closed by the state to boating or bowfishing
**Tournament Officials reserve the right to add Red Zones as needed up to the day of competition if problems arise.**