Bass Pro Shops to open new Outdoor World store in North Charleston, S.C.

Store will serve 1 million area sportsmen and women and will
feature Uncle Buck's Fishbowl and Grill
NORTH CHARLESTON, S.C. – Bass Pro Shops, an outdoor retailer specializing in hunting, fishing, camping and other related outdoor gear, is announcing plans for a new store in the greater Charleston area. The 130,000- to 150,000-square-foot store, which will feature an Uncle Buck's Fishbowl and Grill, will be located at the intersection of Interstate 26 and Northside Drive in North Charleston. The store will be the primary anchor for the 2-million-square-foot, mixed-use Ingleside Plantation North development. Currently, Bass Pro Shops operates one South Carolina store, which is located in Myrtle Beach.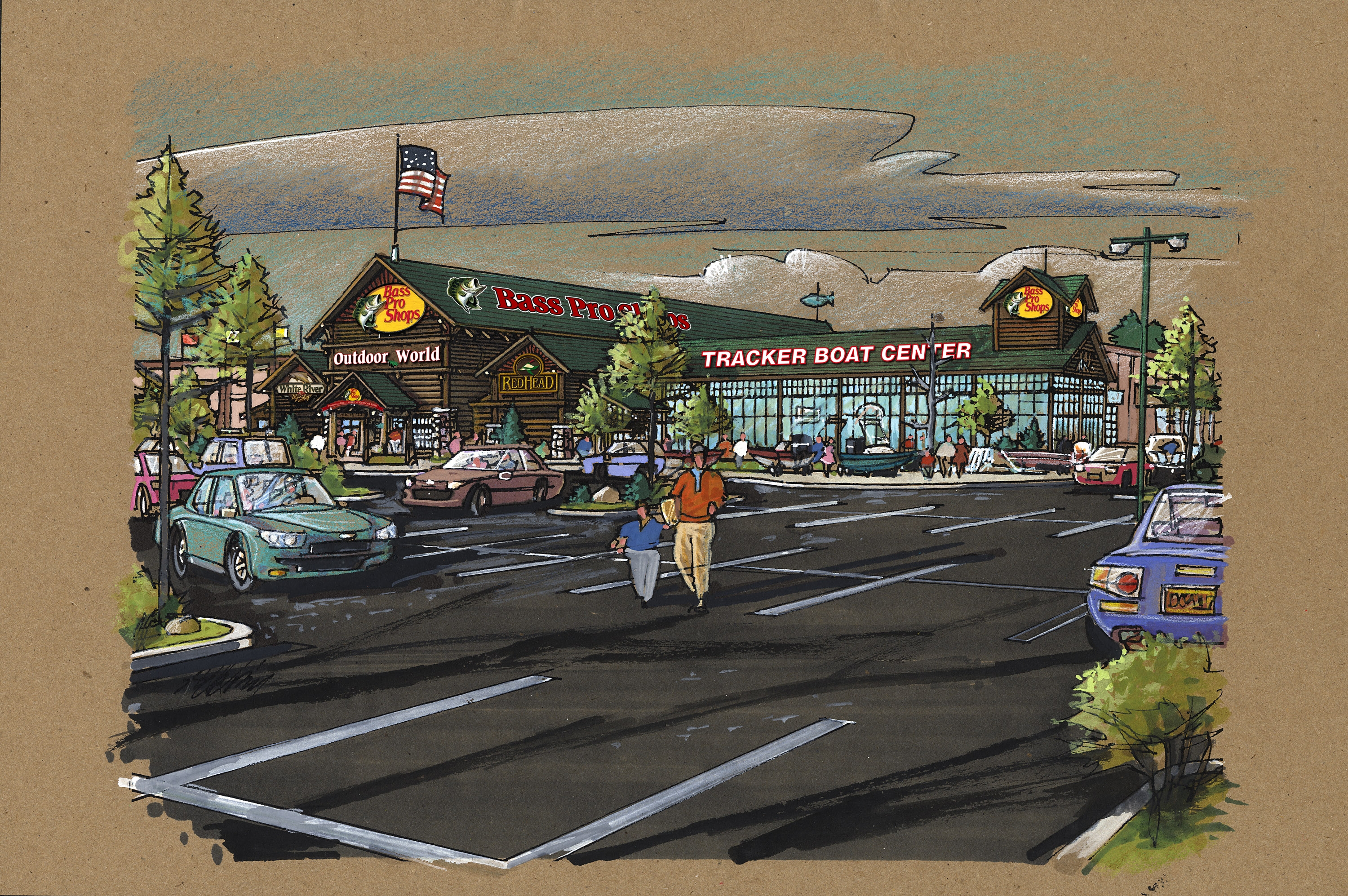 "By adding a Bass Pro Shops to this premier development in North Charleston, we hope to enhance this area's rich tradition and long history of being a highly sought-after outdoor and tourist destination," said Johnny Morris, founder of Bass Pro Shops. "This highly visible location on I-26 is easily accessible and will allow us to bring Bass Pro Shops' low prices and famous friendly, expert service to the area's many sportsmen and women as well as the millions of visitors to the Charleston area each year."

As the oldest and second largest city in South Carolina, Charleston is a popular tourist destination, attracting more than 4 million visitors a year. An inlet of the Atlantic Ocean formed by the Ashley and Cooper rivers, Charleston enjoys a rich history among those who love the outdoors and is renowned for its local seafood. Nearly one million people enjoy hunting or fishing in South Carolina.

Nationally, Bass Pro Shops will host more than 116 million people visiting their 83 stores and marine centers across America and Canada this year; the average customer stays 2 ½ hours and drives an average distance of 50+ miles. Bass Pro Shops was named by Advertising Age magazine as one of the Top 10 Hottest Brands in America along with name brands such as Old Spice, M&M's, iPad and Droid. Also, Bass Pro Shops has been recognized numerous times for their conservation and outdoor education efforts, as well as being recognized by J.D. Powers & Associates for their customer service excellence.

Bass Pro Shops award-winning, mega-sized outdoor stores are known for combining retail with entertainment, conservation and outdoor education. More than just a fishing and hunting store, the Bass Pro Shops store also will offer equipment and clothing for hiking, backpacking, wildlife viewing, camping, and paddling. A gift and nature center features a wide variety of outdoor-related items from lamps and dishes to bird feeders and furniture. Expansive boat showrooms offer Tracker, Nitro, SunTracker, Tahoe, Grizzly and Mako boats built by Tracker Marine Group, the world's largest manufacturer of fishing boats.

North Charleston Store Will Feature Uncle Buck's Fishbowl and Grill
The new North Charleston Bass Pro Shops Outdoor World also will feature the popular Uncle Buck's Fishbowl and Grill. This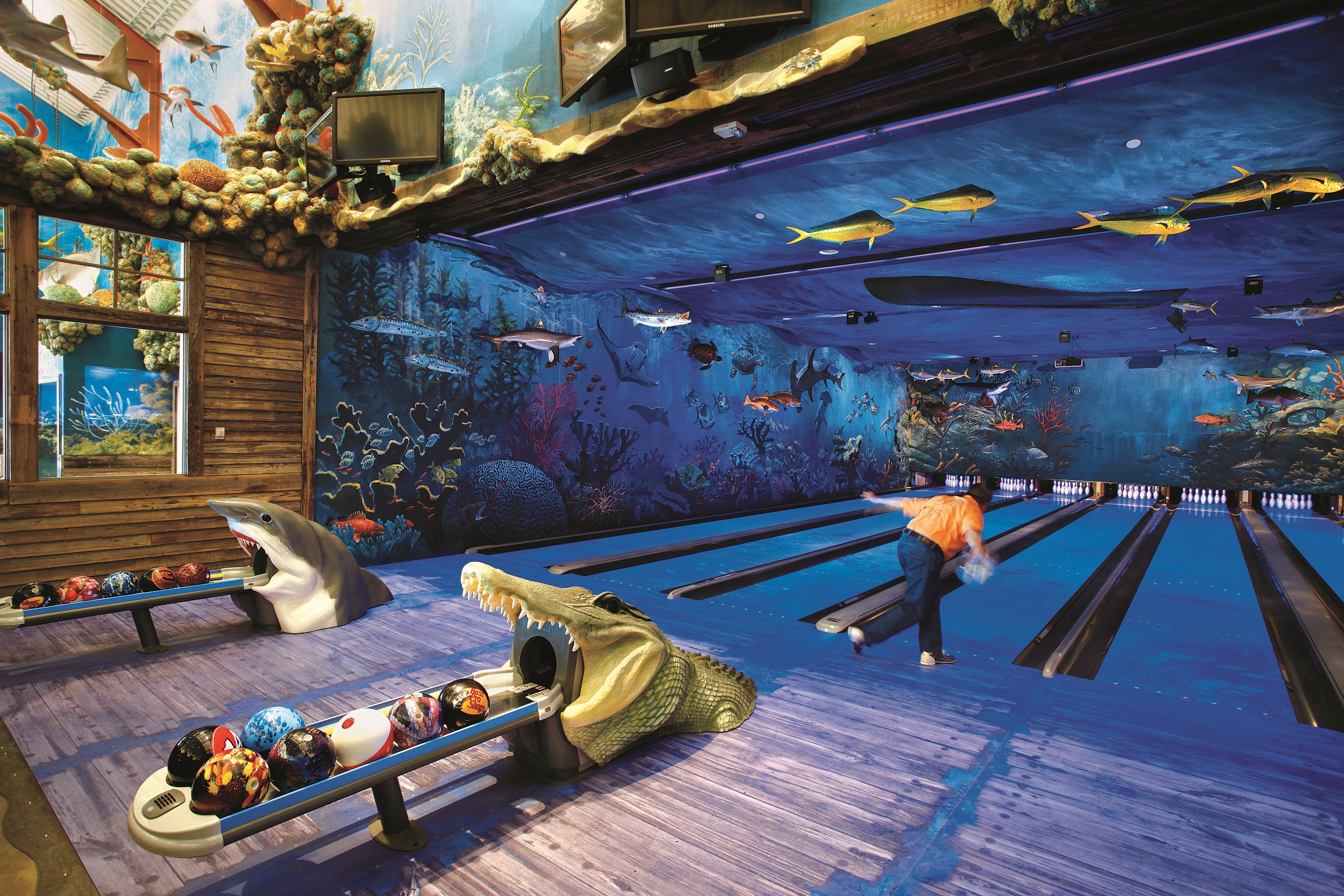 nautical-themed entity located within the store, features a unique atmosphere and design geared for family fun and dining.

Twelve lanes will offer customers the chance to feel like they're bowling 'in the ocean.' Casual family dining will be available in the Grill where customers can select from a menu featuring a variety of appetizers, sandwiches, salads and burgers.

Bass Pro Shops Dedication to Conservation
Bass Pro Shops lodge-like exteriors and outdoor-themed interiors make them popular with customers. The outdoors feel is brought indoors through massive log and rock work, large indoor aquariums and water features stocked with native fish species as well as an extensive collection of museum quality fish and wildlife mounts. Historic photos and exhibits will pay tribute to the region's great outdoor heritage in addition to focusing on the importance of conservation.

Since the beginning, Bass Pro Shops founder Johnny Morris has been dedicated to inspiring people, especially youth and families, to love, enjoy and conserve the great outdoors. That commitment, demonstrated over the course of several decades, is a big reason why Bass Pro Shops is known as the outdoor industry's corporate conservation leader. Bass Pro Shops has partnered with and supports the efforts of many conservation organizations that work to conserve and manage the nation's natural resources, and the North Charleston store is expected to carry on that tradition. Bass Pro Shops key conservation initiatives include fish and wildlife habitat improvements, conservation and outdoor skills education, improving water quality and quality of our lakes and springs, and conservation advocacy.

Visit this link to see a video showcasing a Bass Pro Shops store: http://youtu.be/Nib4BEQl2-k.

To see the popular Uncle Buck's Fishbowl and Grill, visit this link: https://www.youtube.com/watch?v=wwMxwQuaz1w&feature=youtu.be

Suggested photo caption for Image #1
Artist's rendering of Bass Pro Shops Outdoor World store in North Charleston, S.C.

Suggested photo caption for Image #2
Uncle Buck's Fishbowl and Grill allows visitors to feel like they're bowling under the ocean.

About Bass Pro Shops®
Bass Pro Shops®, which specializes in outdoor fun, operates 83 retail stores and Tracker Marine Centers across America and Canada that are visited by more than 116 million people every year. Bass Pro Shops stores, many of which feature restaurants, offer hunting, fishing, camping and other outdoor gear while their catalogs and website serve shoppers throughout the world. The company's Tracker Marine Group® (http://www.trackermarine.com), which has produced the number one selling brand of fishing boats for more than 35 years, manufactures and sells a variety of boats for fishing and cruising. Family fun is on tap at Bass Pro Shops resort Big Cedar Lodge® (http://www.bigcedar.com), voted number six by Travel + Leisure Magazine as World's Best Hotels for Families. For more information, visit http://www.basspro.com. To request a free catalog, call 1-800-BASS PRO. Follow us on Facebook at http://www.facebook.com/bassproshops.

Contact: Katie Mitchell, Bass Pro Shops/Tracker Marine, Communications Manager (417-873-5618) kamitchell@basspro.com