Memphis, Tennessee-(June 21, 2012)-- Bass Pro Shops representatives and officials from the City of Memphis held a "Construction Kick-Off" ceremony, Thursday, June 21st, to mark the official beginning of construction on the new Bass Pro Shops retail store in Memphis, Tennessee. Officials attending the event included Bass Pro Shops founder Johnny Morris, legendary angler and television host Bill Dance, Memphis Mayor AC Wharton and other city officials.
The store will be located inside the famous Memphis Pyramid-- former sports arena for the University of Memphis men's basketball program and the NBA's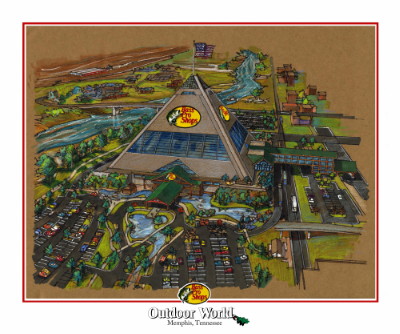 Memphis Grizzlies. At 321 feet tall (about 32 stories) it's considered to be the seventh largest pyramid in the world. The new Bass Pro Shops Outdoor World retail space will be approximately 220,000 square feet.
"I remember trying to make up my mind about putting our store in the Pyramid," said Bass Pro Shops Founder Johnny Morris. "I was on the Mississippi River fishing with my buddies Bill Dance and Jack Emmitt and said if we catch a big catfish it's meant to be—it's an omen. Sure enough, with about one hour to go, Jack got a bite and caught this catfish in the shadow of the Pyramid and I said it's a deal—we're gonna do it!" laughed Morris.
"We are all excited to have a chance to use this incredible space to create one of the most visually unique and exciting retail stores in the world," said Morris. "We have assembled a team of remarkably talented artists and craftsmen to work on this project. We believe it'll be one of the most dramatic retail stores ever created," he continued.
"When you're fishing or hunting, you often have to be patient. But the wait is almost always worth the while," said Mayor A C Wharton, Jr. "We're so pleased that Bass Pro Shops and Johnny Morris had a vision for what the Pyramid could be. They are taking an empty building, one that even at the height of its life wasn't used every day, and turning it into a hunting, fishing and sporting paradise."
Features unique to the Bass Pro Shops Memphis Pyramid store include a floating dock, an island, an aviary and zip line stations. The company is also planning a 3-story hotel that will offer balconies allowing guests to step out and view the store, nature scapes and giant cypress trees swamp area below.
Another key feature of the Bass Pro Shops Pyramid store will be a Waterfowl Museum as a salute to Ducks Unlimited. "We're particularly excited to partner with DU President Dale Hall and all the members of Ducks Unlimited to celebrate the proud history and good work they do," said Morris. "We will utilize the unique retail environment we're creating to celebrate the Delta Flyway and make this store the Waterfowl Center for the whole company."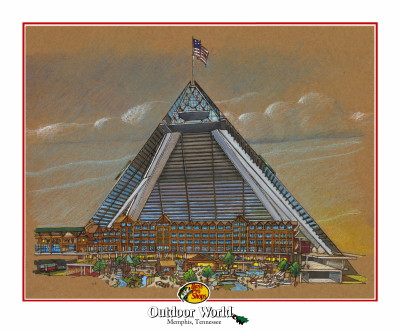 "I know that this is just the beginning of a long relationship with Memphis that will highlight the importance of the Mississippi River and, from our point of view, the tremendous Mississippi Flyway for migratory birds and the economy driven by hunters and bird watchers," said Dale Hall, Ducks Unlimited CEO. "The advancement of natural resource conservation and economic growth go hand in hand," he continued.
Bass Pro Shops visitors will be able to purchase most everything they need while visiting and enjoying the many outdoor opportunities in the Memphis and Mississippi River area by shopping selections of fishing, hunting, camping and marine items, and visiting clothing, gift and footwear departments.
Regarded as part museum, art gallery, education, conservation and entertainment center, the new Memphis Bass Pro Shops store will offer the same signature features of other Bass Pro Shops Outdoor World stores. However, as typical in stores in other geographic locations, this newest Bass Pro Shops Outdoor World will be uniquely designed to pick up the local flavor of the area's outdoor heritage and will include state record fish and wildlife exhibits as well as historical pictures and artifacts from local hunters and fishermen.
The store will offer an archery range, shooting range, rifle tube and a fun laser arcade for kids of all ages. A uniquely designed 24,000-gallon aquarium will showcase native fish Tennesseans love to catch while a boat showroom will featuring Tracker, Nitro, Tahoe and Mako boats all built by Tracker Marine Group—the world's largest manufacturer of fishing boats.
Three-dimensional, museum-quality wildlife dioramas will feature animals such as deer, wild hogs, turkeys and more that will immerse each guest in the abundant bounty of this area. In the fishing department, murals will engulf the viewer in dramatic, historic Mississippi River scenes capturing the beauty of the area and showcasing record catches from the area.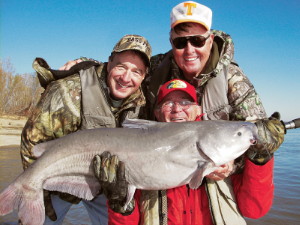 This store will also feature the much- acclaimed Uncle Buck's Fishbowl and Grill. This nearly 27,000-square-foot nautical-themed entity, located within the Bass Pro Shops Outdoor World store, features a truly unique atmosphere and design geared for family fun and dining.
Offering an outside as well as an in-store entrance, visitors will approach a wooden ship-like desk to obtain shoes and a lane. Sixteen lanes, divided into two separate areas, offer customers the chance to bowl 'in the ocean.' Dock wood lanes feature beautiful under-water scenery of sea turtles, sharks, stingrays and other saltwater species which will also glow in the dark during cosmic bowling. Hand-painted murals depicting oceanic life line the walls and fish hang suspended from the ceiling. At the end of the lanes, huge TV projection screens allow viewing of sporting events.
Ball returns resemble sharks and alligators while the bowling balls themselves are custom made and bear the likeness of shark, seagulls, bobbers, octopus, leopards, mermaids, camouflage and more.
Casual family dining will be available in the Grill where customers can select from a menu featuring a variety of appetizers, sandwiches, salads and burgers. An island-theme bar area will feature a 750-gallon aquarium with scores of beautiful, exotic fish.
Recognized many times for their conservation efforts and outdoor education programs, Bass Pro Shops will staff approximately 200 – 250 plus associates from the area that have a passion for the outdoors so customers will be assured of getting local skilled, knowledgeable assistance with product selections and questions. The store will also offer free Outdoor Skills Workshops for adults, kids and families that will help maximize outdoor fun by teaching new skills and improving existing ones.
"Our company has won more awards for our conservation efforts than any other outdoor retailer in America," commented Director of Conservation for Bass Pro Shops Martin Mac Donald. "Bass Pro Shops' commitment to environmental stewardship will be evident in every aspect of the Memphis site design to the interior of the store and especially in our community involvement where we will work with local conservation efforts to help preserve our outdoor traditions for future generations."