BASS PRO SHOPS COMING TO LITTLE ROCK

Little Rock, Arkansas--Bass Pro Shops, America's most popular outdoor store, has announced they will be part of the new 169-acre Gateway Town Center development in Little Rock which will also include an outlet mall, according to developer Tommy Hodges. The location off Interstate 30 and Interstate 430 is the most highly traveled high profile intersection in the state. The store will attract tourists and travelers with its convenient location and will initially generate at least 250 jobs.


"We have reached a firm agreement and will start infrastructure work later this summer with the new 100,000+ square foot store, expected to open in time for Christmas next year," Hodges said. "I am just as pleased and excited as I can be because I feel there is no other retailer in America like Bass Pro Shops."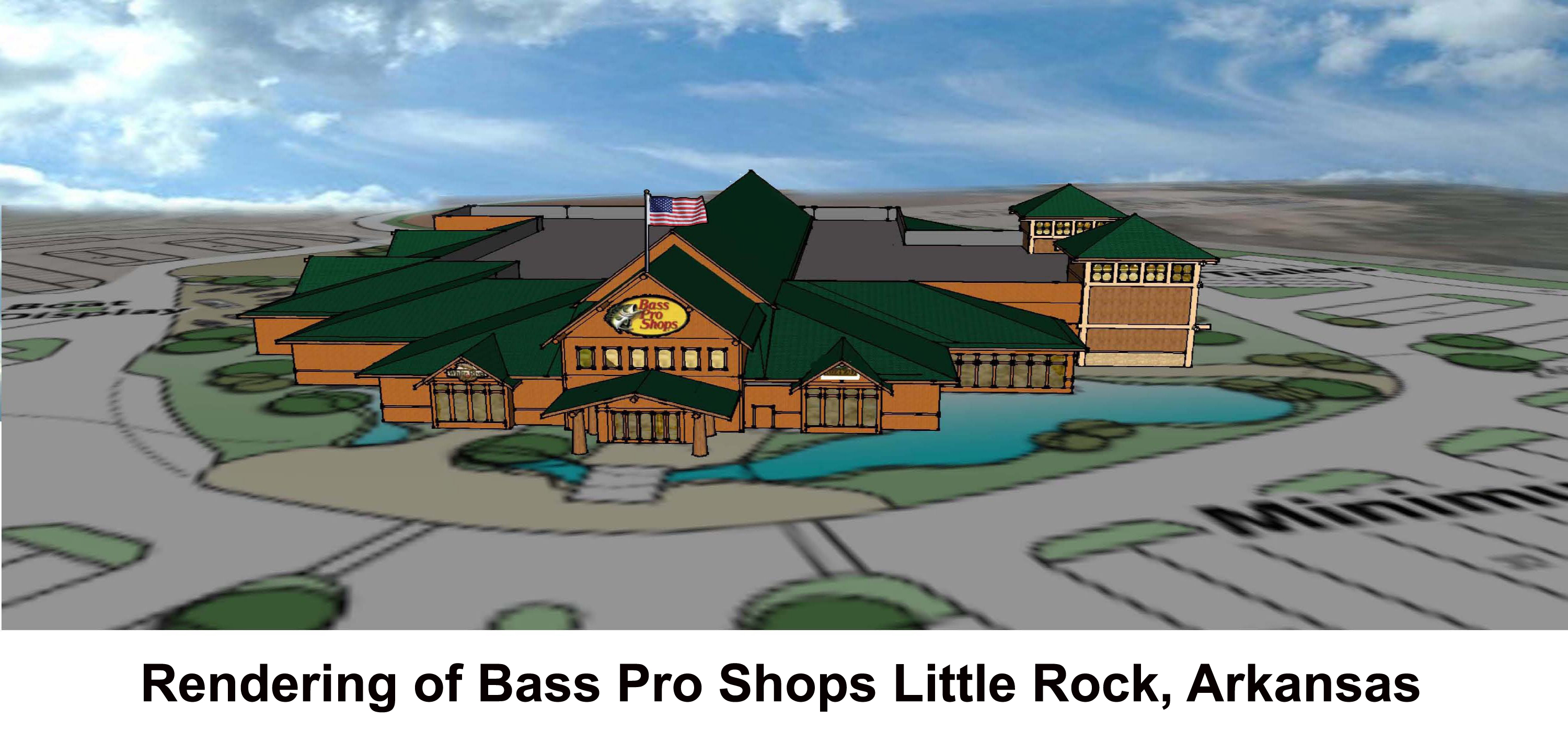 Nationally, Bass Pro Shops will host over 113 million people visiting their 58 stores across America and Canada this year. The average customer stays 2 ½ hours and drives an average distance of 50+ miles. Bass Pro Shops was recently named by Advertising Age magazine as one of the Top 10 Hottest Brands in America along with name brands such as Old Spice, M&M's, iPad and Droid. Also, Bass Pro Shops has been recognized numerous times for their conservation and outdoor education efforts.


"We have been hoping for a store in Little Rock for a long time and, thanks to Tommy Hodges we believe we have found the best location possible," stated Johnny Morris Founder of Bass Pro Shops. "We are very excited to bring Bass Pro Shops to Little Rock and committed to give our long time customers an unforgettable shopping experience at our newest generation store which will be located next to a beautiful 5-acre lake."


"The area's long history of great fishing and hunting traditions along with this highly visible and accessible location make it the perfect place to allow us to better serve our many customers and all the outdoor enthusiasts that visit and live in this beautiful part of the country," Morris continued Bass Pro Shops' unique, award-winning, mega-sized outdoor stores are known for combining retail with entertainment, conservation and outdoor education.


More than just a fishing and hunting store, Bass Pro Shops will also offer equipment and clothing for hiking, backpacking, wildlife viewing, camping, outdoor cooking and more. A gift and nature center will also serve up a wide variety of outdoor-related items from lamps and dishes to bird feeders and furniture.


"We are excited and optimistic that we will be able to include a Bradford Marine Center with an expansive boat showroom featuring America's most popular boat brands Tracker, Nitro, SunTracker, Tahoe, Grizzly and Mako boats built right here in the Ozarks," added Morris. "Knox and Pat Bradford and their family have been our #1 Tracker Boat dealer many times and are very special friends."


The Little Rock Bass Pro Shops Outdoor World will feature the much- acclaimed Uncle Buck's Fishbowl and Grill. This nautical-themed entity located within the store, features a truly unique atmosphere and design geared for family fun and dining.


Twelve lanes will offer customers the chance to bowl 'in the ocean. Casual family dining will be available in the Grill where customers may select from a menu featuring a variety of appetizers, sandwiches, salads and burgers.


Bass Pro Shops' unique exterior and interior motifs have branded them as visually appealing, high quality outdoor stores. The outdoors feel is brought indoors through massive log and rock work, large indoor aquariums and water features stocked with native fish species as well as an extensive collection of museum quality fish and wildlife mounts. Historic photos and exhibits will pay tribute to Arkansas's great outdoor heritage.